The Caldwell House Landscaping Project
Day 2
The Project is underway in earnest – or should I say "Projects" – as there seems to be many things going on at the same time. Being that a picture is worth a thousand words, I'll do a lot more posting of pictures than actual describing.
Along the way, you'll see that we'll have unanswered questions, for example, today's questions is – what perennials should we be planting in our front entryway gardens. Any and all suggestions are quite welcome!!!
Project # 1 involved John and his Bobcat. He cleared out a large are between the little green Caldwell house, the B and B , and Loughran's. Let's just say that that piece of land had been neglected for many years and was in need of a very good spring clean up!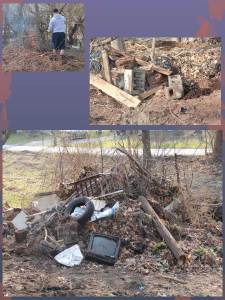 When everything has been completely cleared and the ground has been leveled, we will over-seed it good and within a few weeks it will look like a beautiful rolling hill.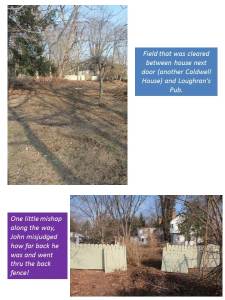 Here's a view of the rolling hill after clearing but before the hydro-seeding and other landscaping work we'll be doing to it.
Hey, I'm begining to grow fond of the little opening in the fence!
Chris DeSantis and his crew moved in with the heavy duty equipment and tore up the existing lawn at the B and B. They used a "power rake" which was attached to a bulldozer. The combination helped aerate, till, and level the land, preparing it for the next stages which included liming, fertilizing and hydro-seeding.
In addition to the lawn, we've changed out all the shrubbery in the front. A row of weather worn hedges just in front of the front porch has been replaced with pink, purple and red Azaleas.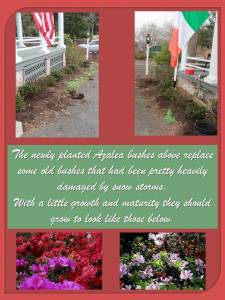 A somewhat new addition will be a redefined walkway entrance from the street. We'll be adding a Flagstone walkway from the street to the front door and alongside the walkway will be gardens on either side which will have mulched in flower beds with yet to be determined perennials.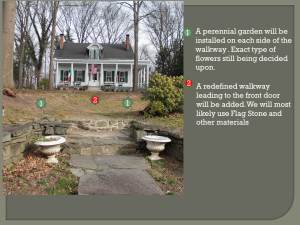 Stay tuned for tomorrow's update as progress is occurring at a brisk pace!