The Caldwell House Landscaping Project
We took some time off to enjoy the weekend and the incredible weather we've been having out here. We also had some great guests in this weekend, so it was nice to put the shovels down for a bit and relax.
But, as the saying goes, "all good things must come to an end" and with the sounds of the Monday morning school bus meant it was time to get back at it.
We have made a lot of progress up to this point and, while we still have more work to do, much of the future "work" is in the hands of Mother Nature.
The Front Lawn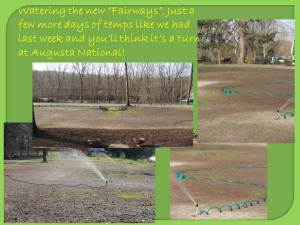 Most of the work on redoing the front lawn is complete. It has been tilled, raked, leveled, hydro seeded, fertilized, and constantly watered. Now it is up to mother nature to work her magic. We figure it will take another week or so before we start to see any meaningful growth – unless the weather turns cold again, in which case it might take a bit longer.
My hope is to be able to posts pictures on line during the playing of the Masters and have people guess – "is it Amen corner or the Caldwell House?"
The Magnolia Trees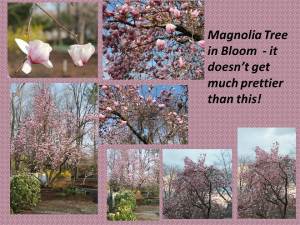 Speaking of the Masters, just like Augusta we are blessed with a number of Magnolia Trees on the property and it is hard to think of anything more beautiful when they bloom (ok, cherry trees might give them a run for their money).
The pictures above are from just one of several tress on the property – and each tree has a different color. There is a very pretty all white one blooming on the other side of the B and B that is a good match with this pinkish one.
The Back Yard
The back yard, or "back 40" as I like to call it, have only been lightly touched so far. There is so much potential back there and offers so many opportunities. We want the yard to offer the sort of backdrop that any bride and groom would dream to have for their wedding or reception.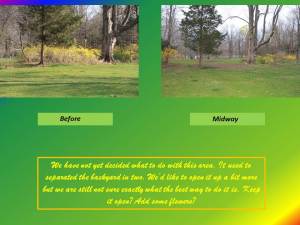 The first project undertaken was to clear out an "island" about a third of the way out in the yard. By doing this, we have opened up the yard so that there is a clear view from the house all the way to the back of the yard – which is quite a ways out there (I'm guessing it's a Par 5 for all you golfers).
To buffer the yard from Route 94 in the way back, we have planted 5 Spruce Trees. While only 6 or 7 feet tall now, they grow to 60 feet or so tall and about 20 feet around. Who knows, maybe someday we'll have a Rockefeller Center Tree to offer??!!
Next – the walkway is completed. The area between The Caldwell House, the little green house, and Loughran's is remade, and more…