PLEASE NOTE STORM KING WILL BE CLOSING AT 4PM ON SATURDAY, JUNE 23 FOR THE INAUGURAL SUMMER SOLSTICE CELEBRATION.
NOW ANNOUNCING
Events at Governors Island this Season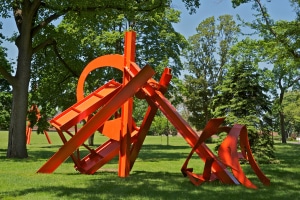 Exhibition on view until September 30
Saturdays, Sundays and Holiday Mondays
This year's presentation of the Mark di Suvero at Governors Island: Presented by Storm King Art Center exhibition is accompanied by a greatly expanded schedule of public programs, developed by Storm King in partnership with other cultural organizations. Programs range from creative tours of the exhibition led by visual artists, organized in collaboration with the Lower Manhattan Cultural Council and Socrates Sculpture Park; to a hands-on family program, developed with The Children's Museum of the Arts; to an afternoon of poetry inspired by the visual arts, presented with Poets House.
FEATURED EVENT
Special Exhibition Tour with William Lamson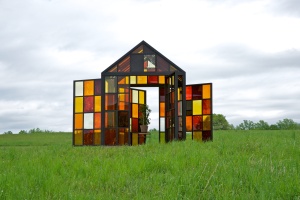 Saturday, June 23, 2 pm
William Lamson, whose work is featured in Light and Landscape, discusses his artistic practice and leads visitors on a tour of his work at Storm King.
Summer Solstice Celebration
Saturday, June 23
Tickets are still available for the inaugural Summer Solstice Celebration, which includes cocktails and dinner. The evening will also feature a special viewing of works included in the Light and Landscape exhibition.
.
Beekeeper Tours
of Peter Coffin's Untitled (Bees Making Honey)(2012)
Saturdays at 12 pm and 1 pm
Storm King's beekeeper leads small tours of the beehives that are installed as part of artist Peter Coffin's project Untitled (Bees Making Honey) (2012). Participants will learn about the ways that honey bees make use of the sun's light, and will take away a sample of local honey. Space is limited on each tour.
Family Tour with Wally McGuire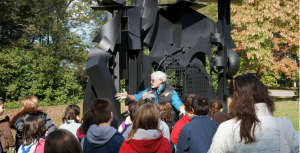 Sunday, June 24, 1 pm

Celebrated educator Wally McGuire introduces children (and adults) to Storm King's sculpture collection. McGuire's tours enable visitors of all ages to find personal connections to sculpture and introduces concepts such as representation, abstraction, and stylization.
EVENTS ON
GOVERNORS
ISLAND
Artists Respond: Mark di Suvero
Sunday, June 24, 3 pm
A collaboration between Storm King Art Center and Lower Manhattan Cultural Council (LMCC). Presented as part of the 2012 River to River Festival.
Artist and former LMCC resident Matthew Jensen will lead visitors on a meandering, story-filled search for the eleven Mark di Suvero sculptures installed throughout Governors Island. Throughout the walk, visitors will stop to discuss the di Suvero sculptures but also pause at other points of interest and hidden landmarks that relate to Jensen's work and the discoveries he made during the residency, a seven-month period of search and documentation that yielded a collection of photographs, found objects, and historical ephemera.