Whitecliff Vineyard, located in Gardiner, NY, situated right along the beautiful Shawangunk Ridge is a family owned and operated winery, specializing in Artisanal European style wines.
Come stay with us and support Whitecliff!!!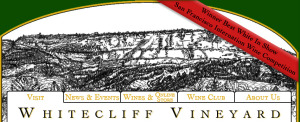 http://whitecliffwine.com/
Saturday & Sunday,
May 11th& 12th and
Saturday & Sunday,
September 21st& 22nd
A Hudson Valley artisanal cheese pairing
Saturday & Sunday,
April 27th& 28th
Saturday & Sunday,
June 22nd& 23rd
A Comparative Tasting of Hudson Valley Breads and Olive Oils
Sampling of small experimental batches of Sparkling Wine.
Wine Club Only
RSVP Required.
Taste library wines from different vintages
Winery Tours With the Owner
Every Sunday in
October at 3pm
Saturday and Sunday,
November 9th and 10th
Noon- 5pm
Tastings: range from $8- $12
Caldwell House Bed and Breakfast
Dena Finneran – Innkeeper
John and Dena Finneran – Owners
Salisbury Mills, NY 12577