Over the time that we have been serving the Hudson Valley community, we have been fortunate to meet so many wonderful guests from all over the country and the world. Whether it is a one night's stay on a business trip, a weekend getaway, West Point's Graduation week or an extended vacation to our beautiful area, we love providing a special retreat to those who stay with us at 
The Caldwell House Bed and Breakfast

.
This is the first of a series that will highlight "a week in the life of a Caldwell House guest." There are so many great activities, events, shops, outdoors adventures, restaurants, and museums to explore and take part in around us in Salisbury Mills, NY that we thought it would be great to give you an idea of things past guests have enjoyed and also what you could plan on for a future trip here. So, here we go! If you were with us on a Monday, here is a sample day in the life of a Caldwell House guest.
First, we would help you start your day with an amazing breakfast cooked by owner Dena Finneran. In our beautiful dining room you may be treated to mango gratin, orange cranberry scones and blueberry cinnamon French toast—a delectable meal in a cozy atmosphere that starts the day off right. Our menu changes daily, alternating between sweet and savory. Have special dietary requests? No problem!
At breakfast, John will help you with directions as you plan an outing to the
Franklin Delano Roosevelt Home
in nearby Hyde Park, NY—an estate that FDR loved and considered home. Opened in 1941, it became the first presidential library and the only one used by a sitting president. Afterwards, make your way to the Vanderbilt Mansion—another national historic site that is one of the oldest estates along the Hudson River and has incredible architecture and beautiful grounds.
All your walking and exploring will build up an appetite and the perfect stop for a delicious lunch is the
Apple Pie Bakery Café
. It is a restaurant that is part of the Culinary Institute of America. Enjoy sumptuous baked goods and signature dishes such as Shrimp Nicoise, Hudson Valley Foie Gras, and Café Quiche. You can also make a reservation before your arrival to tour the Culinary Institute after lunch. A current CIA student will show you behind the scenes and you can enjoy the epicurean delights, cookbooks, souvenirs, and assorted kitchen utensils and their wonderful bookstore. Tours are Monday-Friday at 4 p.m.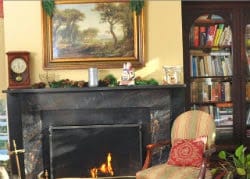 For dinner, you can head back our way and enjoy a fabulous meal and drinks at Loughran's Irish Pub (literally next door). John will probably dare you to try the enormous Prime Rib Dinner that costs less than $20! Everyone who has ordered it has come home with a "doggy bag." At the end of the day, you can come "home" to relax in the
parlor
or on the front porch. Our guests' kitchenettes are available around the clock and are always stocked with an array of drinks and goodies. Enjoy a game of chess or read a book by the fire in the living room.
You will find that our award-winning retreat is the perfect place to relax and get refreshed. Check back next week for a whole new look on what you could do on Tuesday!