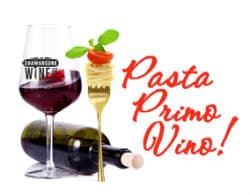 Some things just belong together don't they? Think of mustard and ketchup, salt and pepper, beer and pizza, and peanut butter and jelly. We certainly cannot forget pasta and wine! When you visit The Caldwell House Bed and Breakfast you are just a hop, skip and a jump from the Shawangunk Wine Trail – a gorgeous area where you will find 14 incredible wineries between the Hudson River and the Shawangunk Mountains.
For just two days, April 11-12, 2015, the wineries on the trail will be taking part in Pasta Primo Vino. From 12pm – 5pm each day you can take your time on a self-guided tour to your favorite wineries along the trail. The winemakers at each location are friendly and helpful – ready and willing to discuss the history of their business and of course, their wines. You will be able to sample old vintages and get the sneak peek at new releases before anyone else. There will be a delicious pasta dish served at each winery and the winemakers have each chosen four complimentary wines to sample with the dish. You will receive a souvenir wine glass at your starting winery.
If the tour of these wineries wasn't enough, the Caldwell House Bed and Breakfast is offering an amazing package along side this wine and pasta event. It is our White Glove Wine Getaway Package and for only $879.00 per couple, you will receive a two-night stay at our inn, admission for both days of Pasta Primo Vino, limo pick at our front door and transportation to and from the wineries with your own designated driver. Visit our specials page for more information on this fantastic package—it is going to book fast so contact us soon at (845) 496-2954. The arrival of spring is in just a few days and it's a beautiful time of year to be in the Hudson Valley!