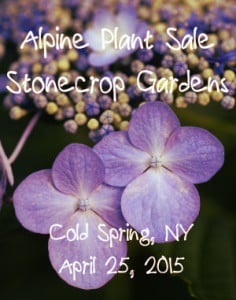 Spring has definitely sprung here at Caldwell House Bed and Breakfast in Salisbury Mills, NY. It is such a beautiful of year in the Hudson Valley as the buds and blooms start to make their appearance and the evidence of winter becomes a distant memory.
For many the arrival of spring also often means the chance to finally get their hands dirty with gardening and landscaping. If this is you, make plans to attend the Alpine Plant Sale happening at Stonecrop Gardens on April 25, 2015. These gardens opened in 1992 and have become a go-to destination for those with a green thumb or people who need expert advice on what to plant and how to get the perfect manicured garden worthy of a magazine cover photo. They are just 60 miles north of New York City in Cold Spring, NY. Aside from going there to buy plants, you can spend hours just taking in their breathtaking landscaping, which boasts woodland and water gardens, a cliff rock garden, a 2,000 square-foot conservatory that floats on a nearby pond, and a massive greenhouse filled with alpines, succulents, and tropicals.
The Alpine Plant Sale will take place from 9 am – 3 pm and in addition to Stonecrop's products there will be nine other nurseries and vendors participating as well. Admission is $5 and they are asking that you follow signs to park in the horse field nearby.
If you will be with us for the weekend, this will be a nice reason to get outdoors and the scenic drive there and back will give you a glimpse of spring in the Hudson Valley. Have an anniversary or romantic getaway coming up? Contact us today about adding a 50-minute relaxing massage to your next booking! Make the most of this time of year and spend some much deserved time away at The Caldwell House Bed and Breakfast.