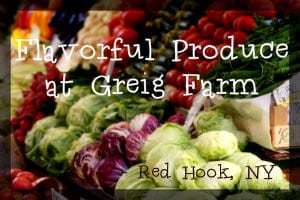 What is your favorite go-to summer activity? If we took a poll with all of the guests that come and stay with us, we would get a myriad of answers! One of the best things about the Hudson Valley and why so many come to vacation here (and often stay permanently!) is that there is an abundance of things to do, places to see, and things to try and experience. We could definitely give you a top ten list, which may make it on a future blog, but for now we thought we would reach out to those who may like the simpler things in life and appreciate knowing of a wonderful local farm to go and visit.
Greig Farm is located in Red Hook, NY, which is about an hour away from our bed and breakfast. It is a gorgeous drive and worth the trip if you are looking for a spot to pick some fantastic, fresh summer fruit and vegetables. They have been open to the public for 60 years and have created a reputation for offering products full of flavor. They are open every day for strawberry picking—rain or shine. They do not use systemic chemicals and when their seasons arrive, they offer plums, cherries, apricots, peaches, and nectarines as well. For those who live nearby or will be frequenting the farm often, you can take advantage of their Fresh Fruit Membership and have all of their produce picked and ready for you to pick up every Friday. Before you leave the farm don't forget to pay a visit to the pygmy goats and koi fishpond.
This is just a fun way to spend a morning or afternoon—pack a picnic lunch and just enjoy some great local produce and the beauty of the Hudson Valley surrounding you. We love using fresh, local produce anytime we can and owner Dena has some amazing breakfast recipes that use delicious summer fruit so if you will be with us this summer season, you are in for a treat!