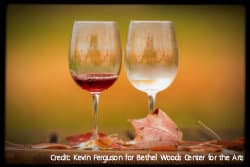 The Wine Festival at Bethel Woods Center for the Arts is an annual event at the beginning of October. "Wine from the Vine" is the signature theme for this event, which is a highlight in the Hudson Valley for wine lovers across the state and beyond.
Mark your calendars for October 3rd, 2015 and invite your spouse, significant other, or your whole group of best friends to this one-day wine affair. The essence of this festival is the chance to showcase the incredible variety of wines that are produced by the best vintners in New York State. Visitors will be exposed to more than 20 regional wineries from across the Hudson Valley and Finger Lakes regions. In addition to sampling the reds and whites, the vintners will on hand to talk one-on-one with visitors and discuss their passions, vineyards, processes, wines, and more. All wines will be available for purchase as well.
While you make your way sampling the wines, you can also try many specialty foods, shop around the wine related products, and relax on the Great Lawn overlooking Woodstock's Festival Field while you enjoy some great live music. The festival will take place from 11am – 4pm and the tasting fee admission is $20, which includes a complimentary wine glass. A designated driver ticket is only $10 and parking is free. Gate admission goes up an extra $5 so we encourage you to get your tickets ahead of time. There is also a $40 VIP ticket which offers access to an exclusive one-hour sampling class with Kevin Zraly, founder of Windows On The World Wine School.
Our elegant and relaxing bed and breakfast is a short drive from this event venue and you can enjoy a memorable weekend getaway this fall. Call us for more information or book online today.