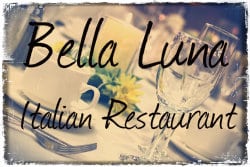 We are so fortunate to have our bed and breakfast in one of the most beautiful and desirable areas of the Hudson Valley. We are flanked on all sides by breathtaking natural beauty and in every direction you can find something to do, places to visit, and areas to explore. From trendy shops to fine dining restaurants—we have an abundance of each within minutes of our home. One of our favorite spots to eat is a gorgeous place under 10 minutes away called Bella Luna Italian Restaurant.
Bella Luna is truly a hidden gem in Orange County and we get the pleasure of having it so close to our inn. The outside is understated – located in a strip mall with a small sign, but when you walk in the place transforms. The ambiance is elegant yet cozy, with hand painted murals and oil paintings from local artists hanging on the walls. They have an extensive menu and wine list and everything is reasonably priced. You will find the service to be superb as well. If you are a pizza fan, they have some absolutely delicious choices in their pizza parlor.
They offer lunch Tuesday through Friday from 11am-2pm and then dinner is served from 4pm-10pm. Saturdays dinner only is served from 4pm-11pm and Sundays from 1pm-10pm. They can get quite busy at certain times so it may be best to call ahead for reservations. If you are looking to try this place out, just let owners John and Dena know and they will be happy to set up a reservation for you.
So, if you are ready for some delicious, family-style Italian food, we suggest trying Bella Luna. We have a great list of area attractions that are also nearby so if you are looking for a holiday getaway with lots to do, the Hudson Valley is the place to be!