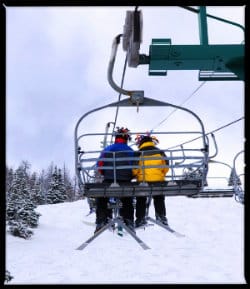 One of our favorite things about the Hudson Valley is the incredible beauty that surrounds our bed and breakfast. Not only does this lend to scenic drives and great views but it is also a huge playground offering our guests endless activities to enjoy. Winter is no exception and with the snowfall lately, we figured some of you might be itching to hit the slopes. We encourage you to check out a great local ski spot called Mt. Peter in Warwick, NY, just 20 miles from us.
Mt. Peter is a 1,220-foot mountain with a peak that is located along the Appalachian Trail. The ski area, which is family-run, opened in 1936 and holds the title of the oldest operating ski area in New York. Believe it or not, Macy's Department Store started the ski hill originally so they had a place to market their ski fashion! You'll find three double chair lifts and a rope tow to take you to seven different ski runs. They have fantastic snowmaking and have perfected the best grooming techniques so you can be sure all runs are always in great condition.
This year they are offering a brand new area designated just for tubing and they added a Carpet Lift and Sunkid Carousel to the Snowbasin Learning Area. This is great for anyone just learning how to snowboard or ski plus they offer completely free Beginner Lessons on weekends and holidays for skiers and snowboarders at 10:00am, 12:00pm, and 2:00pm. Can't beat that! At Pete's Closet you'll find any winter gear you need and Pete's Place is where you'll want to go to relax, warm up, and enjoy some soup or chili.
To use some ski slang—whether you are a ripper, powder-hound, knuckle-dragger, or jibber, we know you will enjoy shredding at Mt. Peter this winter! Book a winter getaway and beat those cold weather blues with some skiing, snowboarding, tubing, and then relaxing fireside with a glass of Hudson Valley wine…perfection!