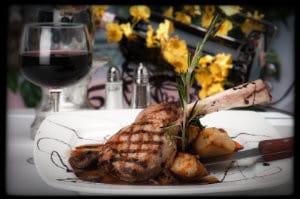 Would you agree with us that there is something special about finding a restaurant that not only has amazing food, but also makes you feel like family when you walk in the door? Many say that the best place in Orange County to get this special quality and incredible Italian food is Silvio's Italian Villa Ristorante & Martini Bar in Warwick, NY. We agree! For guests looking for amazing Italian food at a restaurant where you can relax and dine in elegance, check this one out the next time you are staying with us at our bed and breakfast.
Silvio's has a wonderful history as it started out as a home built in the 18th century by a Revolutionary War veteran. The home changed hands a few times over the years and was also expanded and upgraded along the way. In the early 1980s it was sold to a man who converted it to a restaurant. Around ten years later, the restaurant was sold to its namesake, Silvio, who has been serving diners authentic Italian food now for over two decades.
Being in a gorgeous, original 18th century home, the ambiance is inviting and elegant. In the cooler months the two fireplaces will keep you warm and cozy. The menu is extensive and they only use fresh, local, sustainable, homemade ingredients and the flavor of the dishes reflect this commitment. The portions are generous and the staff is attentive and friendly. Some of the favorite specialties include the Pollo Venus, Genovese, Ravioli della Casa, Fettuccine Alfredo ai 4 Formaggi. They also offer some amazing steaks with an assortment of sauces and rubs, pizza, and fantastic wine pairings.
They also have a variety of events going on during each month including live music, wine and design parties, art exhibits, special holiday dinners, and more so be sure to check their events page regularly to see what is coming up.
So, whenever you are in the mood for some made from scratch, authentic Italian cuisine, try Silvio's—it's only a half-hour drive from our bed and breakfast so you can come back and continue to relax in your suite with a glass of wine by the fire, or a game of chess in the game room. Planning a memorable weekend getaway is at your fingertips—book your room online today or contact us for more information.