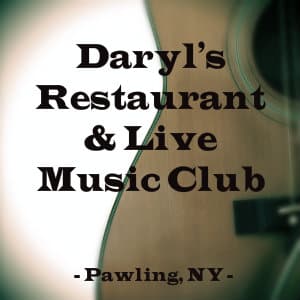 If you are someone with a passion for rock and R&B music, most likely the name Daryl Hall rings a bell. He is the co-founder and lead vocalist for the extremely popular group Hall & Oates. Songs like "Maneater," "She's Gone," and "Rich Girl" have contributed to Hall earning 11 Billboard #1 songs. He started a TV show called Live from Daryl's House, which brought in high ratings but he wanted more – Hall wanted people to have the chance to be with other musicians, enjoy great food and listen to live music. This is where Daryl's Restaurant & Live Music Club all started.
Located in Pawling, NY, under an hour away from our bed and breakfast in Salisbury Mills, Daryl's House (as many fans call it) has become a hot spot in the area to get awesome food in a fun atmosphere, with fantastic live music. Hall took over the Towne Crier at 130 Route 22 and personally managed the refurbishing process as he himself has a huge passion for restoring historic homes. The venue has an 18th century style with a delicious, eclectic menu. Some house favorites include, Spicy Wings "John Rzeznik," Samosas with Chutney, Daryl's Salad, Philly Cheese Steak, Lobster Fra Diavolo, and you can't go wrong with the amazing Rib Eye Steak. If you are popping in for a quick appetizer, drink, or dessert, they have a delicious Fun Plates & Dessert menu as well.
Now if the food wasn't enough, you have to check out the lineup of shows going on at this place! You will find superb artists and groups every single Wednesday, Thursday, Friday, Saturday, and Sunday. Always different…always awesome. On Saturdays they have a great brunch menu with jazz music. Be sure to check out who's coming up in their Backyard Outdoor Concert Series as well.
Daryl's House is fun and entertaining with a relaxed atmosphere to meet new friends and enjoy great food and great music—it's the perfect place for guests visiting the Hudson Valley to enjoy a night out!