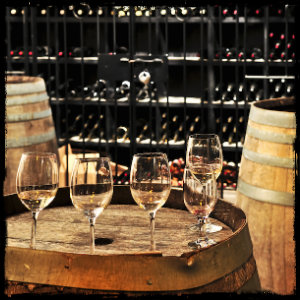 We have mentioned it before, but one of our favorite things about writing these articles for our guests and friends is that we get to share about so many fantastic things in the Hudson Valley. There are award winning restaurants to try, music and art festivals to check out, shops to explore, nature hikes to go on, and today we want to highlight a special place not too far from us called Bashakill Vineyards. This is a great spot to visit the next time you are visiting our bed and breakfast.
Bashakill Vineyards is a beautiful place near the Catskill Mountains that is off the beaten path, up in the woods—a bit of a sanctuary if you will. It is tucked away and quiet and the drive there from our bed and breakfast is very scenic. Their gorgeous vineyard sits on a slope that goes down to the Bashakill wetlands, which are what provide such great growing conditions for their grapes. They also have a herd of sheep, which is quite interesting. They use the sheep for weed control and fertilizer in the vineyard and they spin their wool to make knitted hats that they sell in their tasting room.
The vibe here is very relaxing and they often have live music so you can just sit back under the trees and enjoy a delicious glass of wine. One of their newest is their Estate red wine called Bald Eagle. This red wine, made from organically-grown grapes, has notes of raspberry, currants, with spice, oak and hints of black pepper. The owner and staff here are very warm and welcoming—it's just a nice place to spend the afternoon and you can also bring in your own favorite snacks to enjoy with your wine. Visit their website to learn more about their wines, events, and hours of operation. If you buy a bottle let us know which one is your favorite!
Take a pretty drive to the winery via these directions from the Caldwell House.