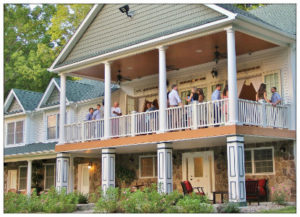 When planning an event one of the most difficult tasks is finding the perfect venue. The warm spring and summer weather means wedding season is here and if you are in the beginning stages of planning the day of your dreams, or are looking for a place to host a rehearsal dinner, family reunion, anniversary celebration, or corporate retreat, our Connemara House is the perfect venue for a variety of events.
We are very proud to share about our recently acquired and renovated Connemara House, which was actually the Caldwell House barn built back in 1803. It was converted into a house in 1900 but we purchased it in 2013 and have been bursting at the seams in anticipation of making it available to past and future guests. The Finneran family comes from a region in Ireland called Connemara, which is where the name for this special house came from. We wanted it to be a multi-purpose space that would lend well to all kinds of events and sizes of groups. We decided to convert the original barn area into a gorgeous, elegant Great Room, which includes a bar and beautiful porch. The downstairs of the building now boasts a gorgeous Bridal Suite and Spa and we added a brand new wing that includes four luxury rooms. We are excited about this addition as it now allows us to accommodate up to 14 guests here at our bed and breakfast.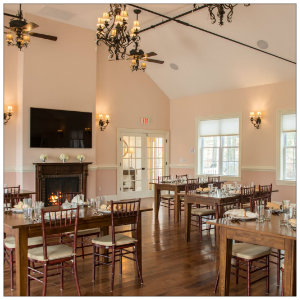 The Connemara House is the picture perfect venue for a wide variety of events and can accommodate approximately 50 people. If you are looking to host your event outdoors, we have an expansive lawn surrounded by beautiful gardens that can accommodate tented events with up to 150 people.
For brides planning summer weddings, we can offer the services of our experienced and very talented wedding and event coordinators. They can help you sort out all of the details to make your special day exactly how you dream it to be. Please refer to our website or contact us if you have further questions about our rooms, property, and rates, or about planning a special getaway to the Hudson Valley.