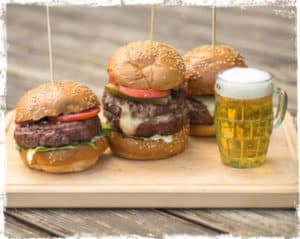 Hopefully the title of this article got your attention as it certainly did ours! What honestly could go together better than burgers and beer! Mix those with a great Hudson Valley summer party and you have an event worth writing about! We absolutely love playing the travel agent role with our guests and sharing about the great events and activities in the area. The Hudson Valley Magazine Burger & Beer Bash is coming up August 11th and we think you and your friends will have a blast so come on over!
The Hudson Valley Magazine Burger & Beer Bash is an annual event in Wappingers Falls, NY—just a quick 30-minute, scenic drive from our bed and breakfast in Salisbury Mills. It will be taking place from 6pm-10pm at Dutchess Stadium. This is the fourth year for this event and it just keeps getting better each year. It is a true battle of the burgers as local restaurants bring their best specialty burger creations. Some of the vendors participating include Brothers Barbecue, Bull & Barrel Brew Pub, Craft Burger, Hyde Park Brewing Company, Mill House Brewing Company, Orange County Choppers Café, Pamela's on the Hudson, Tantillo's Farm, and The Derby.
Juicy burgers hot off the grill, ice-cold beer, live music, great views of the Hudson River and a crowd of fun people make it a summer bash you don't want to miss if you will be in the area. Whether you are traveling solo, with a special someone, or a whole group of friends and family, we'd love to meet and host you at our bed and breakfast. Plan a Hudson Valley getaway and make some amazing memories this summer!