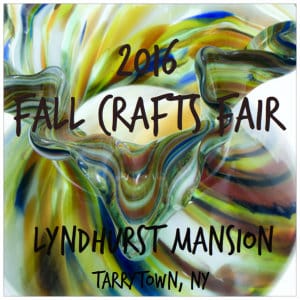 The Hudson Valley has a rich history and you don't have to travel far before coming across some kind of landmark that tells a story. Not far from our bed and breakfast is a spectacular one—the Lyndhurst Mansion and it's actually one of America's most beautiful landmarks. For 30 years now they have been holding fantastic craft shows and the next one is coming up September 16-18, 2016.
Lyndhurst Mansion is located in Tarrytown, NY—under an hour away from our inn in Salisbury Mills. Each year the craft shows are held in May and September and have grown to be one of the most popular craft shows in the area. The shows feature over 300 different artists and activities for the entire family. The various craft demonstrations that occur over the weekend are a big draw for many. You'll find artists showing wheel-thrown pottery, how to make wood turned pens, canoe carving, and Shibumi scarf making to name just a few. For the kids you'll find storytellers hanging around as well as stilt walkers, balloon animals and face painting. The Lindsey Webster Band, a mix of Soul music and R&B will be providing live music Saturday and Sunday. On top of all of that there will be no shortage of delicious concessions with gourmet foods and beverages and discounted mansion tours. Visit their website for admission pricing, admission coupons, and event schedule.
It is at a time when the rose gardens are still in bloom and you may see a hint of the leaves changing color—painting a beautiful backdrop around the mansion for this fall craft show. It will be held rain or shine so come and stay with us for the weekend and enjoy this very popular annual event.