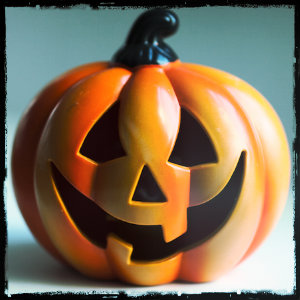 The month of October brings all kinds of fun activities and events for the whole family. It is a perfect time of year to visit the Hudson Valley as the weather is perfectly mild, the sun still shines and makes the impressive Hudson River sparkle, the crowds are smaller and there is a myriad of fun things to do right at your fingertips. For those who love Halloween and all of the fun, spooky, mysterious events at this time of year, this blog article is for you! We are going to give you a list of things to check out should you be coming in for a stay at our bed and breakfast during this time.
First up is the Great Jack O'Lantern Blaze. This is a phenomenal annual event that draws in visitors from all over the valley and beyond. Taking place at Van Cortlandt Manor, this event is an elaborate walk-through experience where you will see over 7,000 illuminated jack o' lanterns, all of which have been designed and individually hand-carved by a team of local artisans. It truly is one of the most impressive things you will ever see. These pumpkins do not have your typical carvings – they each intricately carved and then often used to make elaborate scenes and objects out of the ordinary. There are sound effects and synchronized lighting all to an original soundtrack. Tens of thousands came last year and every night was sold out so this is one Halloween stop you don't want to miss. You can find specific dates, times, and ticket pricing here.
Next up involves a trip to Philipsburg Manor for Horseman's Hollow—where you will experience the Legend of Sleepy Hollow through entertaining haunted craziness. Make your way around the haunted trail and through the twisted maze of horrors. Those involved wear elaborate costumes and award-winning feature-film makeup artists are brought in to make their makeup that much more "real." It's a place you must enter at your own risk—in fact those who may be claustrophobic, have heart or respiratory conditions, are prone to seizures, or have other chronic conditions are advised to skip this one out! Find dates and ticket information for this event here.
Right across the street from the manor at the Old Dutch Church, master storyteller Jonathan Kruk will be providing a captivating performance of The Legend of Sleepy Hollow. Recommended for ages 10 and up, the performance, with spooky organ music and all, will last approximately 45 minutes. Dates and ticket information can be found here.
Whether you are brave enough to check out these fun Halloween events, we encourage you to still come on over for a fall getaway. We can help make your visit what you need it to be—full of adventure or a total escape full of peace and relaxation. Book your room online today!