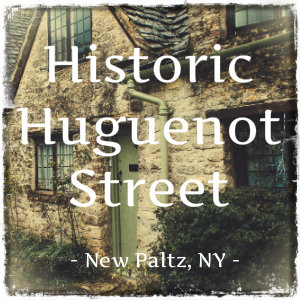 Most of us are looking ahead. What does tomorrow hold? What meetings do I have? Where do I have to be? What do I need? What new technology or gadget is going to come on the market? It is important to stop and look back once in awhile—it is there where we not only find memories to cherish but the rich culture and history that we need to cherish and preserve. The next time you are spending some time with us we encourage you to take a step back in time and check out Historic Huguenot Street.
Located in New Paltz, NY, just over half an hour from our bed and breakfast, is Historic Huguenot Street. This 10-acre National Landmark Historic District provides visitors with an interesting look into America's past. Huguenots were French Protestants that were part of the widespread movement known as the Reformation. Back in 1678 a group of Huguenot families decided to come over to the Hudson Valley to establish a community of their own. Historic Huguenot Street was actually formed during 1894, when descendants of these settlers wanted to find a way to protect and preserve what had been established long ago.
There are seven historic stone houses – each still in their original village setting. You'll also find archaeological sites, a reconstructed 1717 Huguenot church, a burial ground that dates to the very first settlers, and exhibit and program spaces. It is encouraged that you take a guided tour, where you can learn all about the interesting history of the area and gain some architectural insights. Tours depart hourly starting at 10am and cost $15. If you don't have time for the tour, it will still be a memorable experience to wander down the streets of this quaint historic town. Take the time to truly imagine what life would have been like in the 17th century. They have also provided a free walking tour app, which can help guide you along. On December 2, 2016 they will have their Holiday on Huguenot Street event, which will also include the Community Tree Lighting event—a fun one to attend if you will be in town.
We've got warm fires going, gourmet breakfasts being prepared and elegant, inviting suites ready for company—come on out to the Hudson Valley for a relaxing getaway!