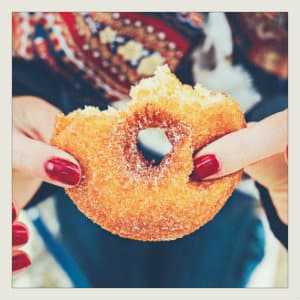 We have all heard the saying, "An apple a day keeps the doctor away." Somewhere we are sure there is support for, "A donut a day keeps the clouds away." Many a street corner has that quintessential donut shop—the place where you stop in with your loved one for a moment in time to relax and enjoy one of the world's most delicious treats. You know how it goes—when you walk in you inhale the deliciously sweet air and then you make your way to the glass case where you may stand anywhere from 5-15 minutes deciding which delicious creation you must have for that day. This exact scenario takes place every day at a fantastic local shop near us named Daddy's Donuts and Bakery.
It's the small things in life that often bring the biggest smile and enjoying a delicious donut—whether on a break from work, during a day of adventuring around the Hudson Valley, or after shopping your heart out at the Woodbury Common Outlets, might be exactly what takes your day over the top. Daddy's Donuts and Bakery, located in Middletown, NY, is just a little over a half-hour from our bed and breakfast in Salisbury Mills. This place offers a wide variety of baked goods and with owners who love to be creative, you'll be wowed by some of the choices on the menu. Oh My Oreo, Banana Pudding, Apple Cider, and Almond Joy are just a few of their options plus you can find delicious rolls, Danishes, cakes pastries, cookies, breads and much more. This place has only been open since November 2015 but has taken local sweet tooth market by storm. It's a place you just have to try if you love sweets!
Something else that hits the sweet spot is a relaxing getaway at our charming and romantic bed and breakfast. A new year is approaching and maybe it's time you took some time for yourself—book your getaway online today or contact us if you need help planning the perfect Hudson Valley winter vacation.