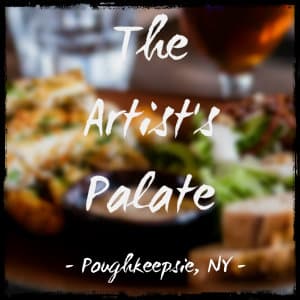 Just like Sherlock Holmes seems to always have the inside scoop on where to look for clues so he can piece things together to reach his, "Aha!" moment, we similarly have our own inside scoop on what's hot in the Hudson Valley. We've had many guests share that they've experienced their own, "Aha! I've found the best restaurant!" moments which we then get to pass on to you! Our bed and breakfast has been around for a while now—an incredible history that actually dates back to 1802 when John Caldwell planted roots with his family in Blooming Grove, Orange County, NY. You can trust that we know a thing or two about the best places to go in the Hudson Valley and today we want to highlight The Artist's Palate restaurant in Poughkeepsie, NY.
This very popular restaurant is about 45 minutes from our bed and breakfast in Salisbury Mills. It is close to the Bardavon Theater making it a great place to grab dinner before or after a show. The Artist's Palate motto is "fresh food and fresh ideas" and there is no doubt by their faithful following that they do that right. The atmosphere is airy and inviting with warm lighting and exposed brick yet also sophisticated and classy for a nice evening out.
The food is simply outstanding. Their innovative menu, which changes from time to time and is very creative, has everything from meat and fish to vegetarian and gluten-free offerings. They love to spruce up standard comfort foods and there really is something for every palate. Favorites on the menu include Roasted Four Onion Soup, Seared Ahi Tuna, Crispy Fried Tofu, and Hudson Valley Duck Breast. The dessert options are just exquisite.
This restaurant is just one of many within the proximity of our bed and breakfast to try. Great dining plus museums, West Point, theaters, galleries, shopping, outdoor fun, and scenic views of the Hudson River make our area a hot spot to visit and we'd love to have you stay with us! Give us a call anytime should you need help planning the perfect getaway or book directly online today!