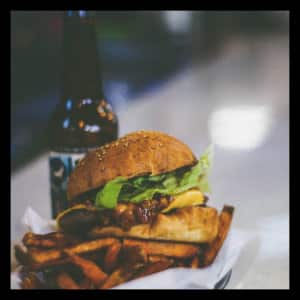 Welcome back to our blog! You may have landed here because you are long time friend of our Salisbury Mills bed and breakfast or just looking for some fun things to do in the Hudson Valley. You've come to the right spot—every week we share on all kinds of things from events going on, festivals to attend, incredible specials we are running, places to check out, and more. Every once in a while we like to highlight a local restaurant that our guests may enjoy—we love supporting our local HV entrepreneurs and businessmen and women. Not too far over from us in Newburgh, NY is a fantastic restaurant called the Wherehouse—keep reading to find out what this little place is all about!
When you mix fantastic pub food, great beer on draft, fun live music and a 1960s themed atmosphere, you know it's a restaurant that has to be good! That's exactly what you'll find at The Wherehouse. This place has a classic pub vibe that is relaxing and fun—a great atmosphere for grabbing drinks with friends or some delicious pub food before or after hitting a local show. It hits the top 20 list for best restaurants in Newburgh on Trip Advisor and has a loyal local following. If you want a fantastic burger and beer meal, this is your place. They have over 50 burger options and 24 rotating draft lines. They also offer Taco Tuesdays, Wild Wing Wednesdays, Mac Daddy Thursdays, and even a Sunday Brunch! The live music is awesome and the service top-notch.
We'd love to know what you think if you go check it out. Guests are always asking our thoughts on the best places to try so your feedback will help us give future guests the best possible time during their stay with us. Are you looking to get away for the holidays? We still have some rooms available and would be more than happy to help you plan the perfect Hudson Valley vacation. Book directly online with one click or call us anytime for further information. Don't forget to check out our current specials as well. We have a great discount going on for those coming mid-week and that will be running though mid-November. Hope to see you soon!