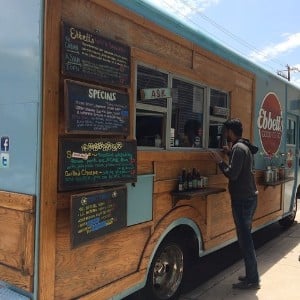 Are you taking time to stop and smell the roses? Spring is in full swing and the entire Hudson Valley is readying for warmer weather as summer will soon knock on the door. But for now, we are fully enjoying the displays of color everywhere, the longer days and the anticipation of hosting returning and new friends at our bed and breakfast. Schools are wrapping up, calendars are being planned out and we don't want you to miss out on a trip to the Hudson Valley – a bucket list getaway destination. With so much to see and do, we thought we'd bring you three local festivals coming up!
Third Annual Food Truck and Craft Beer Festival – Happening June 8th at the Stormville Airport, this event brings some of the best mobile eateries and breweries to town! This is a newer event but the perfect place for anyone that loves craft beer, food and having fun. Local, regional and national craft beer and ciders will be showcased and more than 15 food trucks will be bringing every type of food you can imagine. Main stage live music, artisan market, car show, helicopter rides, horse show, Food Truck Face Off and more will also make this festival one you don't want to miss.
Hudson Valley Shakespeare Festival – This beloved festival kicks off June 9th and will run through September 8th. It all takes place at the scenic grounds of Boscobel House and Gardens, giving festival goers fantastic views of the Hudson River. This year's season will include performances of Much Ado About Nothing, Cymbeline, Cyrano, Into the Woods, and Julius Caesar.
Hudson Valley Wine and Chocolate Festival – The Ulster County Fairgrounds are hosting this popular festival June 15-16th. Tickets, which start at $30, include access to more than 85 vendors. Sip wine and sample chocolate, spirits, and ciders from all across our region and shop vendors offering local honey, olive oil, fine crafts, specialty foods, and more.
Come on over for one of these amazing events or spend your time visiting the Storm King Art Center, stroll the Hudson Valley Walkway, take a river cruise, or just relax! Book direct today for best rates and contact us anytime for further information about the Hudson Valley or our bed and breakfast.