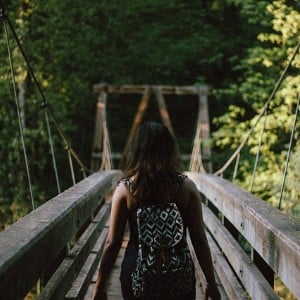 Do you remember that old children's song, "Over the River and Through the Woods?" There are certainly plenty of areas in the Hudson Valley where you could enjoy that type of adventure. Today we are sharing one of those spots that not everyone knows about but one that everyone should see during a stay with us at our bed and breakfast. It's the Suspension Bridge at Black Creek Preserve – a fantastic place to see some scenic views and enjoy a day out in Mother Nature.
We have enjoyed such a beautiful summer (it's not over yet!) and as we get closer to fall, things continue to get even more beautiful around here. Enjoying the great outdoors and spending time in nature is one of the main reasons the Hudson Valley is a top getaway destination. There are just endless places to walk, bike, hike, and explore. The Suspension Bridge at Black Creek Preserve is a unique and fun place to visit, just 45 minutes from our bed and breakfast. Located in Esopus, NY this bridge is an impressive 120-foot wood and rope footbridge that hovers over Black Creek. The creek is actually the entrance to the 130-acre Scenic Hudson Preserve and the beginning of a hike that includes three interconnected trails. There are some up and downhill parts of the trail but the path is well-groomed and easy for people of all ages. It's a wonderful escape from the sounds of the city and then you are rewarded with a beautiful view of the river at one end.
Come and enjoy a relaxing and memorable trip to the Hudson Valley. We can steer you to our favorite shopping, dining, and events and attractions. Book direct online today for best rates or call us anytime for more information about our B&B or the Hudson Valley are we are fortunate to call home.