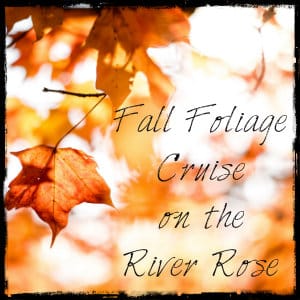 The fall foliage reports for areas within the state of New York are showing that leaves are at their mid-point and nearing their peak! This means for you leaf-peepers out there that now is the time to make your way to the Hudson Valley! Even if you have just one night to spare, we would love to host you for a midweek or weekend getaway. The fall season is stunning and our bed and breakfast is in the middle of the beauty. While you'll have an abundance of activities to choose from, a special excursion for this time of year is a fall foliage sigh seeing cruise on the River Rose.
The River Rose is an authentic Mississippi paddle wheeler. There are a variety of cruises offered throughout the year but one of the most popular ones is their narrated fall foliage sight seeing tour. This excursion begins in Newburgh, which is a short 20-minute drive down 94 towards the Hudson River. You can't miss viewing the Hudson when you are in the area but there is something extra special about being on it and this tour will give you a spectacular view of the surrounding valley during this colorful season.
This tour leaves from Newburgh at either 1pm or 2pm depending on the day, and lasts for 2 hours. It is a narrated cruise and you'll learn some fascinating information along the way as you pass sites such as the Village of Cold Spring, Bannerman's Island, West Point Military Academy, and the Catskill Water Aqueduct. The Hudson Valley has a rich history and you'll get a glimpse into it all as you leisurely cruise down the river. There is a full service bar and a spacious upper deck, perfect for optimal viewing.
Advance purchase for tickets is required and this foliage tour is so popular that there are many dates that have already sold out. As of the day of this article going out, the following dates are still accepting reservations: October 17th, 20th, 21st, 25th, 28th, and 29th. You can book your tickets directly on their website. Don't forget your cameras to capture the beauty!
Our website shares about all of our favorite attractions and things to do—check it out and let us know if we can assist you in planning your next Hudson Valley vacation.