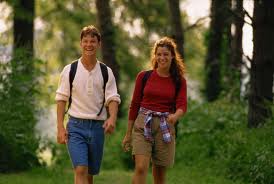 Lots of guests at the Caldwell House love to hike or bike here in the Hudson Valley. Just saw this really neat looking App that could help folks locate the best trails and paths for them…….
Trail Conference Maps on Your Apple Smartphone or Tablet!!
Read on for information about this brand new offering from the Trail Conference!
Use the following links to navigate to the different sections within this informational guide:
Introduction: What is the PDF Maps app?
PDF Maps is an award-winning, free map app from Avenza Systems Inc., a company recognized worldwide as a leader in map development software. The app is currently available on Apple iOS devices (iPhone, iPad, iPod Touch) and is a powerful geospatial PDF reader that allows you to easily download and interact with maps in new and exciting ways. A map store within the app gives you access to thousands of maps from around the world, from outdoor recreation maps to city transit maps. This "iTunes for maps" includes free maps as well as maps available for purchase. The Trail Conference has become a vendor in this map store and has made a selection of trail maps available through the PDF Maps app.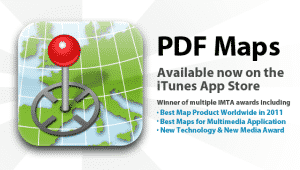 Note: At present, the Avenza PDF Maps app is only available on Apple mobile devices (iPhone, iPad, iPod Touch); an app for Android devices is expected later this year, with other mobile platforms to follow. Stay tuned.
How do I get trail maps on my smartphone or tablet?
Follow these 5 easy steps to get trail maps on your device:
Download and install the free PDF Maps app from the App Store or iTunes.

Click here to go to the App Store directly or search for "Avenza PDF Maps" in the Apple App Store on your mobile device.
PDF Maps requires iOS 4.0 or later running on an iPhone 3GS or better, 3rd generation iPod Touch or better, or any iPad.

Once installed, navigate to the Map Store and search for "nynjtc" to find our selection of both free maps and maps available for purchase (the Search function is accessed by tapping the Magnifiying Glass button).
Tap on a map to view a preview and description.

Free maps can be downloaded directly by tapping 'Free' and then 'Install Now'.
Maps available for purchase can be downloaded through an in-app purchase using your Apple iTunes account. Tap the price, and then 'Buy Now' (you may be prompted for your iTunes account password).
Your device must be connected to the internet (wi-fi or cell signal) to download maps.

The app will switch to the Maps library, and once the map is downloaded and extracted, it will appear in your Map Library.
Tap on the map to open it and start using the map!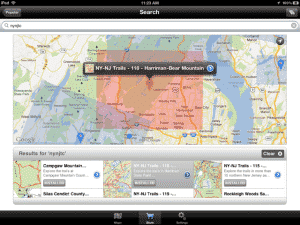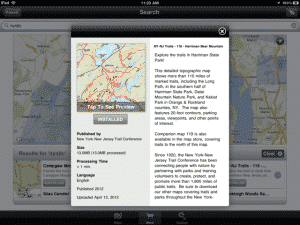 What features are included with the PDF Maps app?
The PDF Maps app includes a number of interactive features that allow you to use our Trail Conference trail maps like never before. Each map is a geospatial PDF, or a PDF that contains geospatial information such as real world location. This geospatial information makes it possible to locate specific points and measure distances right on the map. Here are some of the major features of the app (note that some features require a GPS
-enabled device and/or an internet connection):
Use simple multi-touch gestures to pan around maps, zoom in/out, add waypoints and more.
Use your device's built-in GPS (iPhone and certain iPad models) to see your real-time location on the map.
---
Add waypoints at your current location and even import or export waypoints.
---
Find locations by entering coordinates in a variety of popular coordinate systems.
Attach photos to a waypoint.
---
Measure distances and areas easily and accurately.
---
Navigate with a built-in compass that orients the map based on direction.
Access thousands of maps, including USGS topo maps and a growing catalog of Trail Conference maps, directly within the app using the Map Store.
Use your maps off-line in areas without any mobile coverage, since the maps download to your device's memory.
---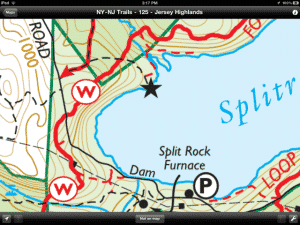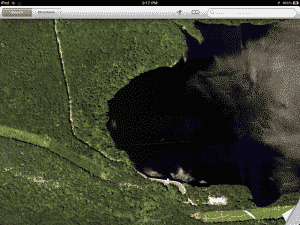 View the current map area in the Maps app (streets and satellite imagery) on your device.
---
Search for points of interest on a map, based on search engine results.
---
Enlarge maps using high-resolution mobile device displays.
---
Carry all your maps on one small device.
What are some specific ways I might use these maps?
Out on the trails, there are many ways you can use the PDF Maps app to enhance your experience. Here are just a few examples:
Plan your route

with the 'Measure' tool to make sure you know how long your route will be.
Use the 'Compass' tool to

orient the map

in the right direction so that you can safely proceed on your intended route.

View satellite imagery

of your location by using the 'Open in Maps' tool (internet connection required). This brings up the Google Maps imagery found in the Maps app, and this additional imagery may help you navigate to a certain feature.
If you aren't quite sure where a parking area is located, use the map with GPS to

guide you to the parking area

(Caution: do not use the app while driving! Have a passenger help navigate, or pull off the road to consult the map). When you arrive at the parking, the GPS location symbol should match up with the parking symbol on the map.
If you know the coordinates of a feature you want to find, you can

enter the coordinates

as a Placemark and see the location on the map.
You can

view the coordinates of your current position

, which can be helpful information to provide to someone that may be looking for you (especially search-and-rescue efforts).
Use the 'Find Places' tool to

locate nearby points of interest

right on the map (internet connection required). This acts like a Google search right on the map. Find a nearby campground or hotel accommodations, or find a great nearby restaurant after a long day's hike.
You can use the 'Add Placemarks' tool to

record locations of features along your route

. You can record a Placemark at a regular interval to keep track of the exact route you have taken. You can also record a Placemark at features such as a fantastic viewpoint or a waterfall so that, perhaps on a future trip, you can see where those features are located on the map.
You can also

add photos to a Placemark

so that you might later recall where a particular photo was taken.
If you use Google Earth or other mapping program on your computer, you can import KML files and export KML/GPX files that include Placemarks. This allows you to

import Placemarks

to place on the map, or export Placemarks you recorded on your trip. The Export function makes

sharing of Placemarks

easy to accomplish (internet connection required).
If you are out on the trail and

notice a Trail Problem

that the Trail Conference should be aware of, or even a problem with the map itself that should be corrected, record a Placemark and send it along to us with a report of the problem.
If you discover other useful ways to use these maps out on the trail, please let us know by leaving a comment at the bottom of this page!