From an Irish newspaper – some interesting information about an original inhabitant of the Caldwell House…….
Salisbury Mills Honors Its Adopted Son
Monument recalls Richard Caldwell's death in 1813, but '98 marked pinnacle for Antrim native
By Charlie Laverty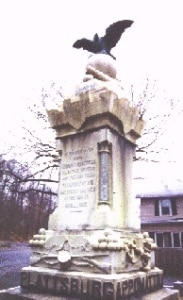 Photo by Charlie Laverty
The entire western face of Salisbury Mills' monument to its war dead is devoted to Antrim-born Richard Caldwell and his command.
Just a few minutes drive from the U.S. Military Academy at West Point, N.Y.,( http://www.usma.edu )lies the modest village of Salisbury Mills. But its remembrance of the deeds of its men at war is far from modest: At the junction of two roads that course through the village stands a handsome 30-foot-high granite monument to its veterans of the War of 1812 and the Civil War.
The western face of the monument — which is topped by a spread-winged eagle perched on a large globe — is inscribed to the memory of Captain Richard Caldwell and the company he led in the campaign in the northern reaches of New York during the War of 1812. Along with many of the Americans, Caldwell contracted pneumonia and died there in 1813, aged 33.
The remaining panels of the monument cite the achievements of Salisbury warriors in the American Civil War, most serving in the 124th New York Infantry at Gettysburg, Petersburg and at Appomattox.
Sworn to replace the divisive names of 'Catholic, Protestant and Dissenter' with the common name of Irishman
But what is missing from the Caldwell tribute is any mention of his far greater claim to fame — his command as a teen-ager of a small army of Irish revolutionaries in his native County Antrim during the summer of 1798. Described as a Division commander, Caldwell and his brother were "United Irishmen," composed mostly of Presbyterians and their Catholic neighbors, who swore to replace the divisive names of "Catholic, Protestant and Dissenter" with the common name of Irishman. Ecumenism was an early and powerful force in '98, a tradition that still prevails among much of the populace of Antrim, Down and neighboring Armagh, Tyrone and Derry.
Author A.T.Q. Stewart, in his "Summer Soldiers: The 1798 Rebellion in Antrim and Down," described Caldwell, 18, as brandishing a sword, leading and drilling his men. For an Irish rebel force of more than 10,000, they were, said Stewart, "well armed," bearing "pikes and muskets" (also scythes and other arms) and "persuaded that 'Ireland was their own.'" The United Irish were opposed by even greater numbers of local militia, known as "the Yeomanry" and British regiments (though it was discovered later that numbers of the militia units were secretly sworn into the United Irish movement, some of them almost universally enlisted into the cause).
Linen Hall Library
Lord Cornwallis spared Caldwell's life, only to see him fight against the British 14 years later in America.
The Caldwells were obviously people of means, at least two of them attending university in Dublin, where the republican spirit was rife, as in Belfast (Antrim) where the United Men were first organized. But within weeks of the outbreak of the Antrim uprising the Caldwells would lose everything.
Richard was captured, sentenced to death in Coleraine, County Derry, his head to be chopped off and placed on a spike in the market square — where others were displayed — to warn and cow the populace. Through contacts, however, one General Lord Charles Cornwallis (the one who submitted to George Washington at Yorktown), reprieved Caldwell, who was ordered to leave his native Ireland forever. The family by now had lost its home to British troops, who gave the them five minutes to vacate before putting it to the torch. For several days, author Stewart says, "the family lived under a carpet thrown over two hedges" until a nearby linen factory building was made ready for occupation.
The Caldwells found their way to Salisbury Mills, New York (where earlier Caldwells had settled) and built a copy of their gutted Irish home. It still stands today, ignored by all but the visiting researcher and a few interested neighbors and historians, just yards from the local Presbyterian church. The Irish, whether of Ulster or Connaught, Roman or Dissenter, can't live far from the comforting bells of the village church.
[Richard Caldwell, captain and rebel general, was commemorated in an illustrated lecture in New York's St. Paul's Chapel, Sunday April 19, the kick-off program of a series of programs marking Ireland's Rebellion of 1798. At the entrance to St. Paul's, two major United Irish leaders, Thomas Addis Emmet of Cork (older brother of the lamented Robert Emmet) and Dr. James MacNeven (Galway) are remembered with two magnificent memorials. Between them lies an American-Irish hero, General Richard Montgomery, who died in the assault on Quebec in 1775, the first general in Washington's army to fall in the war.
For further details of the 1798 Bicentennial programs in New York, e-mail Charlie Laverty at brigadier@thewildgeese.com, or phone him at 973.694.7792.




Caldwell House Bed and Breakfast
Dena Finneran – Innkeeper
John and Dena Finneran – Owners
Salisbury Mills, NY 12577