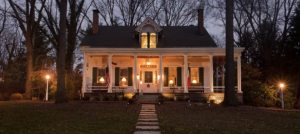 John
Caldwell, (born circa 1742) was a successful businessman in the production of linen near the town of Ballymoney, County Antrim, in the northern part of Ireland.

John

, his wife,

Elizabeth

Calderwood and their 12 children lived on an estate called Harmony Hill, in the hamlet now known as Balnamore. Three of their children, Eleanor, Andrew and James Washington, died early in life at Harmony Hill. Information on three other children, Mary, Margaret, and Elizabeth is sparse. One son, William Alexander, became a successful businessman in South Carolina.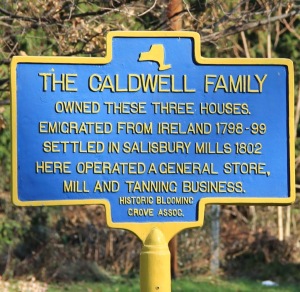 John
, Sr. and two of his sons,

John

Jr. and

Richard

, were involved in an organization for greater autonomy for the Irish. The Caldwell, though Protestant – Presbyterians – befriended many local Catholics. Together, inspired by the American success in 1783 against the British and the French Revolution of 1789, they joined with the "United Irishmen," as they were called, and rebelled against the British in 1798. The Crown aggressively and quickly put down the Revolt. An eviction notice was served on

John

Caldwell and the Harmony Hill Estate was burned to the ground.
Both

John

s (father and son) and

Richard

, (1778-1812), the most prominently active, were put in jail and faced execution. The father came to an agreement with the British Viceroy of Ireland, Lord Cornwallis, whereby his whole family would leave Ireland for America.
Richard
left in September 1798.

John

, Sr. hired a ship, -"Peggy"- to take other family members and "hundreds of Irish Radicals" to America in May 1799. Somewhere on the Atlantic Ocean, French pirates stopped the Caldwell's ship. It was released after the pirates were convinced that the Irishmen hated the English as much as the Frenchmen did. The fact that

John

, Jr. was a Mason like the pirate captain was also a factor in their release.
The Caldwells first settled in the Flushing section of Queens County, NY and Water Street in Manhattan. They operated a store selling wines, groceries, dry goods and other merchandise.
In 1802,

John

Caldwell purchased about 50 acres from William Denning for $12,500. The houses flanking both sides of this house (# 21 which we also own and will be restoring, and # 31, which we do not own) were part of the purchase. "Here am I at length by the goodness and mercy of my God, on this the first day of
April 1803 comfortably settled, with my four daughters, on my own estate at Blooming Grove, Orange County, NY." he wrote in the family bible. Sadly, not long after writing these words,

John

Caldwell died (he is buried in the backyard along with about 4 generations of Caldwells). Unable to find Liberty in his homeland, he found Liberty and Freedom for his family in America.
John
, Jr. (1768 -1850) and

Andrew

James (1782-1862) operated a general store, a flourmill, and a leather tanning businesses in Salisbury Mills.

John

, struggled financially with his business ventures, but was noted for his honesty in paying off his debts and was known throughout the area as "Honest John" Caldwell. He was instrumental in founding the Orange County Fair, which has been an annual summer attraction here since 1841.
Andrew
helped build a schoolhouse that was used until 1880 when it was replaced by a more modern (two-room) schoolhouse in Salisbury Mills. He was also influential in establishing Washington's Headquarters in Newburgh as the first publicaly operated historic site in the United States.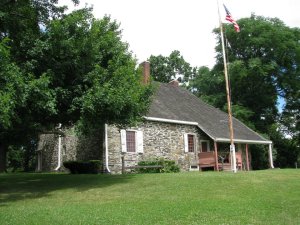 When the war with England in 1812 became a certainty, Richard Caldwell raised the 25th Co. Infantry of soldiers, was elected their captain, and led them. toward Canada, crossing Lake Champlain in open boats, in a severe storm. He divided his extra clothing with his soldiers, and contracted a severe cold, resulting in pneumonia, and he died December 11, 1812, and is buried at Champlain, near Plattsburg. His name is perpetuated by the beautiful monument erected in Salisbury Mills by his nephew, Richard Caldwell, to his memory and the memory of those who perished with him in that ill advised and ill equipped expedition.
But what is missing from the Caldwell tribute is any mention of his far greater claim to fame — his command

as a teenager

of a small army of Irish revolutionaries in his native County Antrim during the

summer of 1798

. Described as a Division General, Caldwell and his brother were "United Irishmen," composed mostly of Presbyterians and their Catholic neighbors, who swore to replace the divisive names of "Catholic, Protestant and Dissenter" with the common name of Irishman. Ecumenism was an early and powerful force in '98, a tradition that still prevails among much of the populace of Antrim, Down and neighboring Armagh, Tyrone and Derry.
Richard was captured, sentenced to death in Coleraine, County Derry, his head to be chopped off and placed on a spike in the market square — where others were displayed — to warn and cow the populace. Through contacts, however, one General Lord Charles Cornwallis (the one who submitted to George Washington at Yorktown), reprieved Caldwell, who was ordered to leave his native Ireland forever.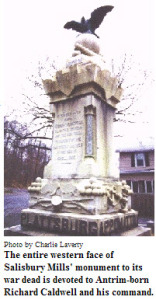 Catherine
(1775 -1856) was the primary resident of our house for approx. 40 years. She was first married to

James Parks

, described as an English sea captain by one author and as a lawyer by another. After Mr. Parks died,

Catherine

married

John Chambers

, an active United Irishman and a bookseller in Dublin and New York City.
When

Catherine

died, our house was deeded to her brother

Andrew

's son,

Richard

Caldwell (1818-1901).

Richard

and his wife,

Sarah

, were instrumental in having the monument erected in Salisbury Mills in memory of those who fought in the war of 1812 and the Civil War, 1861- 1865.
A nephew of

Sarah

Caldwell,

Oscar M. Bate

(18?? -1944), inherited the house and his estate sold it in 1952 to the

Lathrop family

from Rockland County. The

Sheridans

bought the house from the

Lathrops

in September 1998 and converted it into the beautiful Bed and Breakfast you see today!
Caldwell House Bed and Breakfast
Dena Finneran – Innkeeper
John and Dena Finneran – Owners
Salisbury Mills, NY 12577