Some things must be kept secret but other times, there is simply some information that is too good and must be shared! In honor of St. Patrick's Day and to pay special tribute to our wonderful Grandma Finneran, we have graciously decided to share her top-secret recipe for Irish Soda Bread.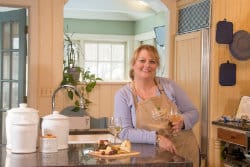 You see we treat each and every guest that comes through the door of the Caldwell House Bed and Breakfast like family. Our accommodations have every amenity that will make you feel comfortable and "at home" and there is a never-ending supply of specialty coffees, teas, soda, and homemade baked goods that we make available 24 hours a day. We have Keurig machines available in both the Main House and the Carriage House so you never have to go without a hot drink.
Every morning a full three-course breakfast is cooked and served by owner Dena Finneran in our formal dining room and when the season comes around, guests cannot get enough of Grandma Finneran's Irish Soda Bread. If you have some family you would like to impress or just want to bake something to celebrate St. Patrick's Day which will touch your soul and make your entire house smell like heaven, print out this recipe and bake away!
Grandma Finneran's Irish Soda Bread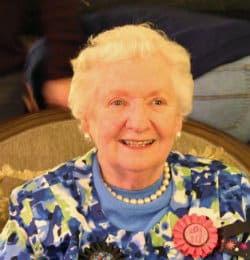 3 1/2 cup flour
2/3 cup sugar
1 Tablespoon Baking Powder
1 Teaspoon Baking Soda
1 Teaspoon Salt
1 Tablespoon Caraway Seeds
1/2 cup raisins (use golden raisins and I always double the amount)
Mix together.
Add:
2 eggs, beaten
1 cup buttermilk
2 Tablespoon melted butter
Heat oven to 350. Put in greased loaf pan and bake for about an hour. You may need to cover the top with foil if it gets too brown.
** This mix gets really sticky. If you don't have a standing mixer you may need to use your hands to mix it all together.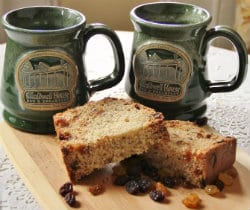 We would love to share the story and history of The Caldwell House Bed and Breakfast and the Finneran family the next time you stay with us. For reservation information call us at (845) 496-2954 or book directly online.