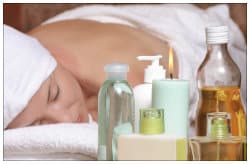 One of the incredible perks about staying at a bed and breakfast is that you will often find a myriad of special add-ons to make your stay that much more special and memorable. At our home away from home, we treat every guest like a family member who has come in for a stay. We want you to feel comfortable in a place that promotes relaxation, rejuvenation, and luxury. If you are in need of a restful getaway, we encourage you to book a night or two, or more, with us and take advantage of our special massage service.
There is nothing like a massage to help you forget the troubles of the day, and soothe tired, sore muscles. At our inn, our massages are $100 and are only provided by licensed professional Massage Therapists. This is an add-on service that you can reserve at the same time that you book your room. To allow for scheduling and ensure that we have availability we ask that massages be arranged one week in advance.
Aromatherapy:
One of the techniques used by our massage therapists is aromatherapy, which is the use of essential oils from plants. The benefits of using essential oils include stress relief, relaxation, healing, stimulate brain function, and improve physical wellbeing. Some examples of the kinds appropriate for stress relief and relaxation include:
Lavender –Calming, sedating and promotes sleep
Chamomile – Relaxing and soothing
Vanilla – Calming and comforting
For revitalizing and to increase alertness:
Eucalyptus/Peppermint – Invigorating and stimulating
Grapefruit – Refreshing and energizing
Lemon – Uplifting and refreshing
If a weekend away with a private luxurious room, gourmet breakfast made from scratch, massage, and many other amenities sounds like what you need, please contact us or make a reservation online today.