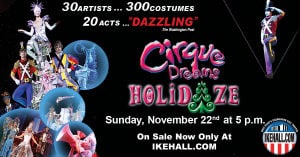 If you are like us, it doesn't take long before your holiday calendar gets filled up with parties, events, family get-togethers and more. We love the holiday season at our bed and breakfast because we get to host and celebrate with wonderful guests from all over the country and beyond who come to the Hudson Valley for a little R&R. We love to hunt for great activities and events going on in the area and the Eisenhower Hall at West Point, NY, which is just a few minutes away, is offering the Cirque Dreams Holidaze Show on November 22, 2015.
The Eisenhower Hall on the West Point campus is the Hudson Valley's premier performing arts center and brings in national and local acts throughout the year. The large theatre offers comfortable seats, amazing lighting and sound, and free parking. Mamie's Buffet is a renowned restaurant right on the property where you can enjoy a pre-show meal as well.
The Cirque Dreams Holidaze Show will be the perfect event to get you into the holiday spirit and will entertain all ages. This holiday spectacle is critically acclaimed and is truly the greatest variety show you will see! This show features 20 acts with 30 artists from all over the world—over 300 costumes, soaring acrobatics, elaborate numbers, illusions, gravity defying feats, holiday music, and more. It is a fantastic show that we are sure you will enjoy during your visit to the area. Tickets are $40-$42 for all ages.
With many specials going on and the Hudson Valley a hot spot during the holidays, we encourage you to book your suite soon so you don't miss the chance for a late fall or winter retreat at our bed and breakfast! Book directly online or contact us for further information.