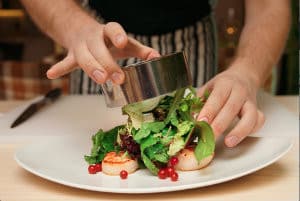 Imagine spending a Saturday in one of the amazing kitchens at the Culinary Institute of America—learning from an expert chef, eating some delicious food, wearing an official CIA apron and chef's hat…do we have your attention? Good! Whether you are a seasoned cook, a weekend baker, or simply just love food, you can take a fun cooking or baking class this fall at the world's premier culinary college.
The Culinary Institute of America offers Saturday classes to anyone interested that is 18 years or older. You don't have to have the skills of a seasoned chef—just a love for food and learning and a desire to have fun and try new things. An expert CIA chef will provide the instruction and guidance you need to create some amazing plates of food, you'll get to enjoy a delicious lunch, and meet some new people!
Starting in November going through until the end of December, there are some really unique and fun classes to check out. Some of the ones that sound really intriguing to us include:
Creative Cupcakes – November 11, 2015
Artisan Breads at Home – November 14, 2015
CIA Holiday Favorites – November 14, 2015
Bistros and Brasseries – December 5, 2015
Hors d'oeuvres for the Holidays – December 12, 2015
South of the Border: Mexican Favorites – December 12, 2015
The institute is located in Hyde Park, not too far from our bed and breakfast in Salisbury Mills, NY. After a day of cooking or baking, you can enjoy the rest of the weekend in your private suite—sounds like a perfect fall getaway! If weekends are busy for you, perhaps a night or two mid-week is best—escape the hustle and bustle and enjoy some peace and relaxation in our romantic, historic country inn.