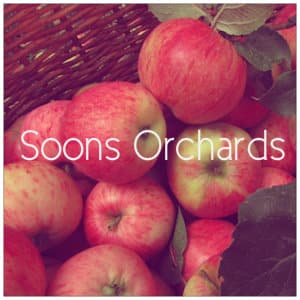 When you think of what pairs with fall, what comes to mind? Football? Apple pie? Pumpkins? Leaves full of color? Perhaps all you can think of are the leaves to rake in your front yard! We love everything about fall and we especially love some of our amazing neighboring businesses like Soons Orchards that offer fantastic goods and activities for our guests in the fall season.
Soons Orchards is located in New Hampton, which is a scenic half-hour jaunt from our bed and breakfast in Salisbury Mills. This place is full of history and the story of Soons Orchards dates back to 1910 when William Soons moved north from New York City and started dairy farming. It wasn't long before he had planted all kinds of trees all over the place and Orchard Hill Farm came to be. Soons youngest grandson ended up taking over and worked hard to make the orchard what it is today and was the one to change the name to Soons Orchards.
At their farm store, which is open year round except for June and part of July, offers countless goodies, sweet treats, and homegrown produce. At this time of year you can find pumpkins, gourds, corn stalks, Bartlett and Bosc pears, fresh-pressed apple cider, apple cider donuts, fruit spreads, pies, turnovers, cookies, Irish tea scones, honey, maple syrup, candy apples, kettle corn, gift baskets, and so much more! For U-Pick apple and pumpkin information click here. You can also enjoy a refreshing glass of Orchard Hill sparkling hard cider in their tasting room.
A popular event they put on that happens one evening per month except for June and October is "Dinners at the Farm." This event is a farm to table dining experience you won't forget. Led by Chef Shawn Hubbell of Amuzae, Dinners at the Farm happen once a month and are often sold out. Chef Shawn is a CIA grad and cooking instructor and the mastermind behind some of the most popular dinner series' in the area. The menu for Dinner at the Farm is unique each month and he uses only the freshest ingredients for his delicious and creative dishes. The next one coming up will be November 11, 2016 with doors opening at 7:30pm. Tickets are $42.50 per person and you must purchase a seat using their online registration form. Spots fill up quickly so if this is something you are interested in, we suggest claiming your spot fast.
The fall is a great time to get away and enjoy some YOU time! Bring your friends, family, or special someone and enjoy a quiet, relaxing getaway at our charming bed and breakfast. We can help you plan the perfect retreat so book online today or contact us for further information.