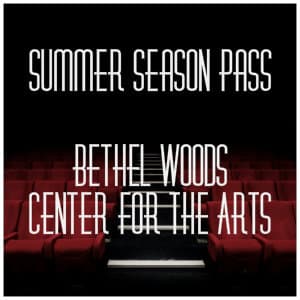 We have all heard about being a "left or right minded" person. Which are you? The artistic, creative free spirit who moves as the wind blows or the more centered planner who likes to have your ducks in a row? We accept folks from all walks of life at our bed and breakfast, and whether you like to be daring and spontaneous or plan your life to a tee, we've always got something great you can experience here in the Hudson Valley. Even though spring just arrived, that does mean summer is coming and for those who may like to get your summer vacation plans in order, we suggest checking out the season lawn pass at Bethel Woods Center for the Arts so you can plan your summer concert season in style.
First of all, if you are familiar with this venue, the Bethel Woods Center for the Arts is in Bethel, NY and is a performing arts center and museum. It is the site where the famous 1969 Woodstock Festival took place! They've got an impressive calendar of events full of festivals, concerts, exhibits, special events, workshops, classes, and more. On sale now though is their 2017 Season Lawn Pass, which is valid for general admission to the lawn during the 2017 Pavilion Stage concert season. If you think you may be a regular visitor this summer and enjoy amazing shows, this pass is a great idea. It gives you free lawn chair rental and access to all Pavilion concerts—including all sold out shows. It is less expensive that individual tickets to all of the events, less hassle and you can transfer the ticket to anyone should you not be able to attend.
We are going to give you some more information in a future blog about upcoming concerts but as a sneak peak, acts coming this summer include Neil Diamond, Zac Brown Band, John Mellencamp, Foreigner, Rod Stewart, Chicago, Santana, Florida Georgia Line, and more! Our bed and breakfast is the perfect retreat when you come for these events and not too far from this venue, with plenty of shops and restaurants in between to keep you busy. Book online today as summer fills up quickly or contact us anytime should you need some help planning your stay with us. We look forward to seeing you soon!