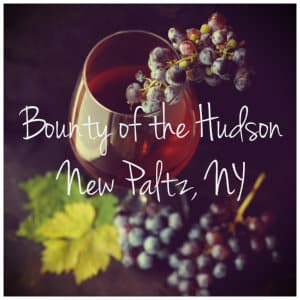 If a two-day wine and food festival, which celebrates the finest goods produced right here in the Hudson Valley, is up your alley then you simply have to make plans to visit us at the beginning of June! The Bounty of the Hudson 2017 event is the perfect way to usher in the summer season and enjoy all that our bountiful area has to offer.
To give you little bit of background information, the Bounty of the Hudson is actually one of the many Shawangunk Wine Trail events that happen every year. The Shawangunk Wine Trail is an 80-mile route between the Shawangunk Mountain Region and the Hudson River that links 15 family owned wineries from New Paltz in Ulster County to Warwick, in Orange County. Each one is wonderfully unique and together they produce incredible, award winning white wine, red wine and distilled spirits.
The Bounty of the Hudson celebration is a way to "tip our hats" to these incredible wineries and give visitors a chance to experience their bounty first hand. Along with sampling the award-winning wines, you'll also get treated to delicious goodies from local growers and restaurants including cheeses, baked goods, honey, and fresh produce. A myriad of vendors will be on hand with items for sale and no event is complete without some fantastic live music.
The festival will take place at the Ulster County Fairgrounds in New Paltz, NY, June 10 and 11, 2017, from 12pm-5pm both days. Your tasting ticket will also include a complimentary wine tasting glass. Find more information and purchase tickets here.
Our bed and breakfast is just over a half-hour from this venue allowing us to be your perfect home away from home for the weekend. Add in a trip to the Storm King Art Center or a tour at West Point Military Academy and you've got yourself a great weekend retreat planned! Contact us today for further information or book right now online.