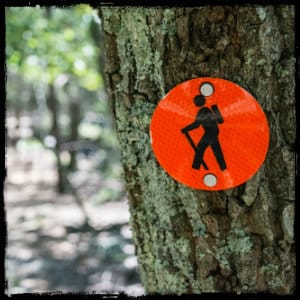 "Hiking is a bit like life: the journey only requires you to put one foot in front of the other…again and again and again. And if you allow yourself opportunity to be present throughout the entirety of the trek, you will witness beauty every step of the way, not just at the summit." – Anonymous.
We don't know who said this quote but we like it because it has to do with making memories. Friends, life is short and passes in the blink of an eye! Don't let it pass you by without stopping to make some incredible memories along the way. We have watched so many guests over the years leave with smiles on their faces, hearts happy, bellies full (of Dena's amazing gourmet breakfasts!) and stories to share. It's your turn! A trip to the Hudson Valley to enjoy the great outdoors may be the journey lying ahead for you and a loved one or group of friends. We've been spending some time doing a mini-series on great hikes nearby and today we've got some incredible ones from Black Rock Forest.
Black Rock Forest is a scenic, 3,800-plus acre forest and is the largest area in the Highlands with a sustained elevation over 1,200 feet. It is linked to Storm King State Park by the Stillman Trail.
This bunch of hikes we have listed for you today have it all! View a historic feature, cool off with some swimming, visit some waterfalls, and see some incredible views! We want to note that these hikes range from moderate to strenuous so they are definitely not for those who are just up for a leisurely stroll. You'll want to come prepared with the right shoes and clothing for the weather, plenty of water and snacks and it is often best to hike with a buddy! We've included links to the hike, distance from our bed and breakfast and duration of the trek.
Black Rock Mountain and Sphagnum Pond Loop from Mine Hill Road – 7 miles away – 5 miles long
Sutherland Pond/Scenic Trail/Eagle Cliff Loop from Mine Hill Road – 7 miles away – 6.5 miles long
Mt. Misery/Hill of Pines/Rattlesnake Hill/Black Rock Mountain Loop – 7 miles away – 7.5 miles long
Black Rock Mountain Loop from Reservoir Road Trailhead – 7 miles away – 5.2 miles long
Whitehorse and Black Rock Mountains from Reservoir Road – 7 miles away – 6 miles long
Black Rock Mountain/Hill of Pines/Rattlesnake Hill Loop from Mine Hill Road – 7 miles away – 8.4 miles long
When you are ready to explore, we can help you plan your entire getaway! We can offer award-winning accommodations, delicious breakfasts each morning, and a backpack with water and snacks for your trek. If you are looking for the best spots for nightlife, dining, or the arts we can show you our favorite places to go. Book your room online today and contact us with any questions or assistance in planning your Hudson Valley summer retreat.