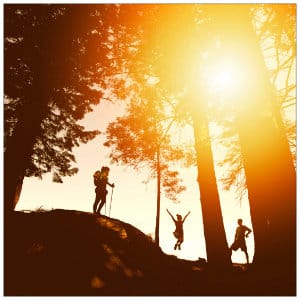 We are back once again with the last and final post of our Hiking the Hudson Valley series. What a fun journey this has been! We've looked at so many amazing places to explore—we sure hope you will take the opportunity to get outdoors this summer or fall!
The Harriman State and Bear Mountain State Parks are our pit stop today – a stunning natural local area that offers hikers an abundance of trails to explore. It is truly an outdoors enthusiast's paradise with over 200 miles of hiking trails snaking through the 47,527-acre park. This beautiful area boasts 31 lakes, countless streams, gorgeous vistas and a whole lot of one on one time with nature. It's the second largest state park in New York and a favorite spot for both residents and visitors.
With so many trails to mention, we picked just a few and have them listed below from easy to moderate and have included how far away they are from our bed and breakfast and the length of the trail.
Easy:
1777E/Doodletown Bridle Path Loop from Route 9W – 17 miles away – 5 miles long
Green Pond/Boston Mine Shorter Loop from Route 106 – 20 miles away – 2.8 miles long
Bear Mountain Summit Loop – 21 miles away – 1.3 miles long
Moderate:
Long Path to Long Mountain Summit in Harriman State Park – 17 miles away – 2 miles long
Circular Hike Around Bear Mountain – 19 miles away – 10 miles long
Silvermine Lake Loop – 19 miles away – 3.8 miles long
Queensboro and Turkey Hill Lakes Loop from Anthony Wayne Recreation Area – 20 miles away – 4.6 miles long
Strenuous:
Popolopen Gorge/Popolopen Torne Loop – 16 miles away – 4.5 miles long
Bear Mountain Loop via Appalachian Trail and Major Welch Trail – 17 miles away – 4 miles long
Bear Mountain Loop via Major Welch Trail and Appalachian Trail – 17 miles away – 4 miles long
Appalachian Trail on Bellvale Mountain – 18 miles away – 7.1 miles long
Bald Mountain/Doodletown Loop from Route 9W – 18 miles away – 5 miles long
Dunderberg Spiral Railway/Bald Mountain Loop – 20 miles – 7 miles long
We would love to help you plan the perfect outdoors getaway to the Hudson Valley. Just tell us what kinds of things you like to do, places you'd like to see, and type of vacation you are looking for and we will help you create a retreat tailored just for you. You can book your room(s) directly online today or contact us anytime for further information.