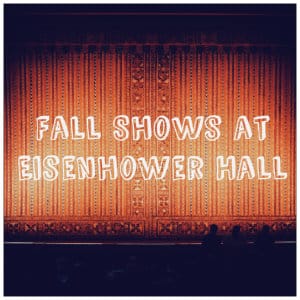 Did you know there are scientific reasons supporting why vacations are good for your health? Taking time for yourself can reduce your stress levels, help prevent heart disease, improve your general productivity, and help you sleep better! We definitely want all of our family friends to live long, prosperous lives so regular getaways to our bed and breakfast are a must! When you are here, what better way to relax and unwind than with a great show too! Eisenhower Hall over at West Point has two great shows coming up this fall, giving you a great reason to take some time off!
The Eisenhower Hall Theatre or Ike Hall, as many call it, is a beautiful performing arts theatre on the campus of the prestigious West Point Military Academy. It is a venue that has welcomed many big names and local acts over the years. It is one of the Hudson Valley's premier performing arts centers and our guests have really enjoyed attending events here. There are two great performances happening here this October that we think you will really enjoy.
First is a fantastic musical called A Gentleman's Guide to Love & Murder. This hit show is absolutely hilarious and won the 2014 Tony Award® for Best Musical. It is taking place Oct 22nd at 5pm and single tickets are $43.
Second, is the very impressive stage show STOMP, taking place October 28th at 8pm. If you are not familiar with this performance, let us tell you it is one the whole family will enjoy. The artists in this show have become an international percussion sensation. They use run-of-the-mill items such as brooms, matchboxes, wooden poles, hubcaps, garbage cans, and Zippo lighters to fill the auditorium with creative rhythms. Your feet will be tapping and your face won't stop smiling as these artists create a "noise" that is contagious and entertaining.
Whether you are looking for shopping venues, antiques, museums, history, places to hike, wineries, farm markets, or amazing dining, we've got it all. Call us today and allow us to help you plan an amazing Hudson Valley vacation.