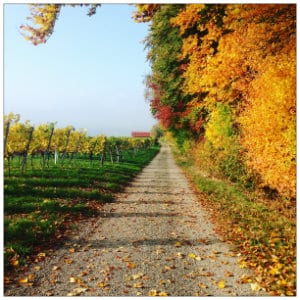 We know there are many other areas throughout the country that experience a beautiful fall season but friends, you simply must, at least once in your lifetime, get to the Hudson Valley. It's One of National Geographic Traveler's Top 20 Must-See Places on its Best of the World list and the fall colors are absolutely spectacular. The red, yellow, and orange hues of the Red Maple, Sugar Maple, Sassafras, Poplar, and Witch-Hazel trees are vibrant and create a stunning landscape all around our bed and breakfast. Get out this fall and enjoy it all with a fantastic local company called the Hudson Valley Bucket List. They offer some great tours we know you'll love.
Favorite Fall Tours
Fall Foliage Wine Tour – This tour takes guests to three or four local wineries, each of which is beautifully nestled in the scenic Hudson Valley. Sample regional wines paired with local cheeses and enjoy a picnic lunch as well. This is a 6-hour shuttled tour on which you'll learn some history of the region, see some breathtaking views (don't forget your camera), stop at a farm stand or two, and just relax as you enjoy the landscape along the way. The tour begins at the Beacon Train Station, which is approximately 20 minutes away from our bed and breakfast. The next two tour dates are October 14th and 21st and tickets are $160/per person.
Beacon Bites & Beverages – Enjoy this unique hosted walking tour as explore some of the best local and innovative artisans and chefs that we have in our area. The guided walk, which takes you down the east side of Main Street, is 3 hours and 45 minutes long. You'll stop at several eateries and shops and enjoy 5-7 tastings as you learn about the shop owners and the stories behind their food and businesses. The stops include Denning's Point Distillery, Drink More Good, Hudson Valley Brewery, Beacon Pantry, Beacon Hotel, and Beacon Bath & Bubble. Tickets are $50/per person with the meeting place starting at 314 Main Street Beacon, NY. You need to book in advance and this tour takes place most Saturdays starting at 2pm.
Award-winning wine, delicious food, stunning scenery—bring your favorite friends and enjoy one of these very popular fall tours. We can help you plan the rest of your getaway too! All you need to do is book your room online and then call us with the needs and interests of your party and we'll create a memorable getaway that will have you leaving relaxed, rested, and ready for the next time you can come back!