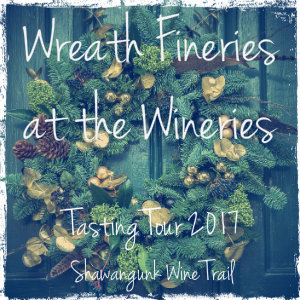 Scottish novelist and poet, Robert Louis Stevenson, known best for famous works such as Treasure Island and Strange Case of Dr. Jekyll and Mr. Hyde, must have also had an affinity for fine wine. He once quoted, "Wine is bottled poetry." If you have an appreciation for wine then perhaps you agree with his statement. We are so fortunate to have an abundance of amazing local wineries close to us. In fact, if you are new to our blog or the Hudson Valley, you may not know about the Shawangunk Wine Trail! They have a fantastic event starting soon called Wreath Fineries at the Wineries you need to check out!
The Shawangunk Wine Trail is home to 15 wineries that start just 60 miles outside NYC. While each is diverse and unique, they all produce world-class wines that pay homage to the Hudson River Region. You'll find spectacular scenery along the route, charming towns, local farms, markets, historic attractions, and more. Many of our guests have thoroughly enjoyed spending a day or two traveling from winery to winery. This next upcoming event, Wreath Fineries at the Wineries, is the perfect reason for your next Hudson Valley getaway. There are three separate weekends for this event: November 18-19 and December 2-3, and 9-10. If you are looking for the perfect way to kick off the holiday season, this is it!
This is a self-guided tour and you do need advance tickets. All you have to do is pick a winery as your starting point, where you will get a souvenir wine glass, a grapevine wreath, and a Shawangunk Trail ornament. Then, at each winery you will get to enjoy a complimentary tasting and receive another ornament for your wreath! It's a tasting tour we know you will truly enjoy.
Let us know if you will be taking in this event and we can point you to the best places to stop and check out along the way, including some of our favorite restaurants, such as the Lakeview House in Newburgh. They offer a fantastic lunch and dinner menu! Book your desired rooms online today and contact us anytime for further information! Don't forget to ask about our specials as well—we are running a fantastic discount on a mid-week stay through mid-November!