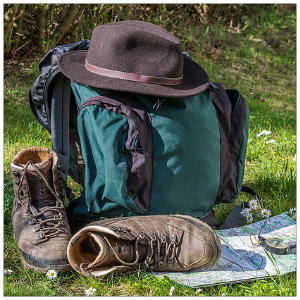 A river that carves between mountains, sweeping vistas, peaks and valleys, woodlands, farms, communities, historic sites…this is just the tip of the iceberg when describing some of the scenery found in the Hudson Valley. The area is chock full of scenic drives that will fill your travels will awe and inspiration but what about the spots that can only be found on foot? Perhaps the "hidden gems" that can't be seen by car? We've done a few hiking posts here and there on our blog because it's a great reason to get outdoors and there are a ton of amazing places for our guests to explore. So, we wanted to highlight just a few favorites for you down below!
Breakneck Ridge– Don't be deterred by the name of this trail – it's one of the most popular hikes in the Hudson Valley. Hundreds trek over here on the weekends from spring to fall. There are various trails to choose from that offer different types of adventures, which is what makes this area so alluring to outdoor enthusiasts. Choose a half-mile climb or a 6.5-mile loop – whatever you choose the hike will be awesome and the views numerous and breathtaking. You can head down to Cold Spring after your hike and fuel up on a burger and beer or refreshing ice cream.
Storm King Mountain– You'll enjoy some wonderful views just driving to the trail head here. There are also lots of different trails from which to choose here and be forewarned that there is a pretty decent incline from the parking lot to start things off. It is labeled a beginner skill level hike though so is accessible for all ages and abilities. The rewards for your work are definitely worth it here with 360-degree views of the Hudson Valley from various spots. It's a great spot for photographers wanting to catch some pure Mother Nature beauty.
Gertrude's Nose– This incredible spot is actually part of Minnewaska State Park, so you need to know that there will be a $10 parking fee here if you do not have the NY state parks pass. You'll wind around carriage roads into some trekking through the woods and the trail is varied but quite easy. Round trip it's about 7.5 miles and can take up to 5 hours depending on your speed so go prepared for the trek. The views are absolutely stunning! When you get to the rock ledge, it feels like the whole world spans out around you. Stop for a picnic and take in the views before heading back down. The park itself has lakes and waterfalls where you can relax and cool off as well.
We can help you plan entire "hiker's retreat" if you are interested in spending some time exploring the Hudson Valley this spring or summer. Contact us anytime and book online before our amazing bed and breakfast fills up for the season!