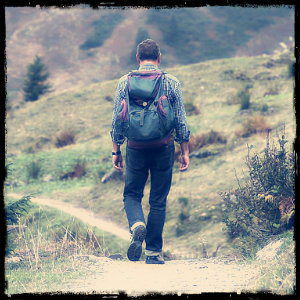 We are back again for our second article in our mini hiking series. Just writing about these amazing spots is getting us excited to get outdoors this spring and summer! Friends, if you have not traveled over to the Hudson Valley, there is a world of exploring at your fingertips! We would love to have you stay with us at our bed and breakfast in Salisbury Mills and help you see why we so love our one-of-a-kind home. We've got three more hiking spots to tell you about below as well as some important tips to remember before you go.
Sam's Point– Pack up the family or grab your best friends for this one. The nice thing about this hiking trail is that you get to drive the scenic route most of the way. Then it's just a few minutes of walking to get to one of the most spectacular panoramic views around. It's a fantastic hike for the fall due to the amazing foliage colors that you'll see but many trek over here during the spring and summer to catch the falls flowing. You'll see the tallest waterfall in the Shawangunk Mountains! It's a fun experience to hit the trail through the ice caves before going to the falls. Be prepared for a $10 parking fee here and we suggest wearing layers and bringing a flashlight if you plan to check out the caves. Click on the link above to
Hike to the Mt Beacon Fire Tower– This is another great trail that is great for those traveling without a car as it is close to a train station. This one has a steep incline so be prepared with good shoes for a nice workout. The trek upwards is worth every breath as you'll see sweeping views of the river below and the city of Beacon. You can also trek to the next mountain over for the fire tower views—the perfect place to take in a gorgeous Hudson Valley sunset. On a clear day, you'll see the stunning New York City skyline from here. Bring some snacks and your camera for pictures and if you are a history buff, don't forget to check out the Daughters of the American Revolution memorial.
Anthony's Nose– We mentioned another "nose" trails in our blog last week so go check that out! But for today, Anthony's Nose is another popular trail where you will hike a portion of the Appalachian Trail to a spot that will give panoramic views of Bear Mountain and the Hudson River. There is an information board at the trailhead, so you can see where you will be going. It's an out and back trail that is great for beginners but will be enjoyed by advanced hikers as well. It's about a mile-long and you can go as slow or as quick as you desire. When you are done you can cross the bridge to Bear Mountain State Park and enjoy relaxing at one of the picnic spots around the lake.
Hiking Tips
1) Carry more water than you think you need and leave a water bottle in the car, so you'll have more to drink when you get back from hiking.
2) If you tie your shoes just a little tighter at the start it will help your toes from banging into the front of your shoes on the way down.
3) Even if you think you don't need them, trekking poles makes hiking so much easier. They help scramble rocks, cross streams, and really help keep your balance especially if you are carrying a heavier backpack.
4) If hiking alone, always make sure someone knows where you are and what you are doing.
5) Keep a band-aid or little piece of duct tape in your pocket in case an annoying blister or hot spot should appear on your feet.
6) Wear the right footwear for comfort and safety. For some trails, a nice sneaker is sufficient but for more rugged trails, a hard-soled hiking shoe will make a world of difference in your experience.
We share the abundance of activities and attractions in the area on our website and encourage you to come visit! There is a reason we have guests return year after year! Our beautiful bed and breakfast is close to everything you'll need but we can offer a private, peaceful retreat for those who need to recharge and reset. So, whether you are looking for an outdoor hiking adventure, amazing dining experience, ultimate shopping, arts and culture, or down time, look no further than the Hudson Valley. Book online today and contact us anytime for further information