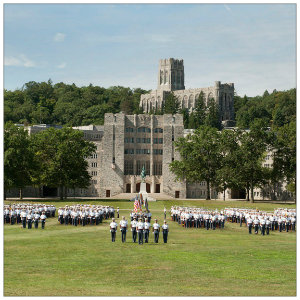 West Point, the elite United States Military Academy is located near the Hudson River, just 9 miles from our bed and breakfast in Salisbury Mills, NY. The young men and women who enroll in this prestigious academy undergo a rugged and demanding training program, often giving parents unique challenges as well. One challenge that we don't want parents to deal with is where to stay when visiting their cadet.
Our bed and breakfast is the perfect choice for accommodations here in the area for a visit to West Point. We are a quick drive from the academy campus, making it easy to go back and forth if you have to be in town for several days. Our luxurious property offers fourteen guest rooms to choose from, each with all of the amenities you need to feel pampered and relaxed. All our guest rooms feature luxurious linens, large flat-screen Smart HDTV's, sitting area, free high-speed Wi-Fi, in-room climate controls, private baths, monogrammed Kimono robs, wine glasses, cork screws. Many of the rooms have a fireplace, jacuzzi tub or soaker tub, and a wine refrigerator. When you come to visit West Point, we want you to have a place to call home that allows your time in the Hudson Valley to be that much more memorable.
There are all sorts of activities happening throughout the year at West Point, including Graduation, Acceptance Day Parade, R-Day, Ring Weekend, Affirmation Ceremony, Family Weekend, Thanksgiving holiday, Army Football games and other sporting events, and much more. See a full 2018-2019 calendar here. When you need to be in town, we would love to meet you and be your hosts during your stay. It's easy to book your favorite room online and we can also help you plan fun activities to do during your down time. Inn owner John's favorite place to golf happens to be the West Point Golf Course. It's a gorgeous mountain course between Storm King Mountain and the Hudson River. Or, tell us your hobbies and we can point you to fun places to tour, eat, or shop. Contact us anytime for further information or if you need help planning a getaway while visiting West Point this summer or fall.