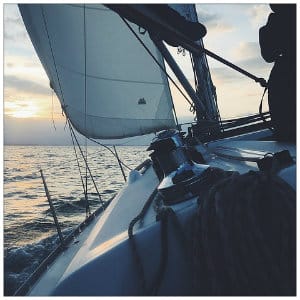 The fall season is a time where the Hudson Valley truly shows off. The sugar maples, aspens and swamp maples burst with color and the area becomes yet again, a favorite place to visit. We would love to have you visit our neck of the woods and allow us to steer you to our favorite things to see and do. Our guests never run out of options for adventure and if you enjoy being out on the water, we suggest taking a Fall Foliage Tour with Tivoli Sailing.
Tivoli Sailing is a local company that offers all kinds of cruises and tours on the Hudson River. They have a Historic Mansion Tour, Bird Watching Tour, Special Occasion Cruises and seasonal ones such as the Fall Foliage Tour.
Rates vary depending on whether you choose to sail on "Helen," their 29-foot sloop or on "Songbird," their 44-foot yacht. Pricing is based on the number of people in your group and whether you choose a catered or non-catered tour. The un-catered tours last roughly 2 hours and the catered tours approximately 3 hours. It is suggested that you bring a sweater and/or windbreaker as it can get a bit chilly on the water as well as a camera. This is one adventure where you will get a glimpse of the area from a different perspective and will be able to snag some stunning scenery shots.
Your captain, Jerome Hollick, has been sailing the Hudson River for almost 20 years and brings a wealth of knowledge and a passion for sailing. On their website Hollick is quoted as saying, "This section of the Hudson River is especially beautiful with the Catskill Mountains as a backdrop, as well as all of the historic and beautiful mansions that line the river on both banks."
A fall sailing excursion is the best way to experience the serenity and beauty of the Hudson Valley. It's only available from mid-September through October so don't delay in booking your room at our bed and breakfast to be able to take advantage of this unique experience.