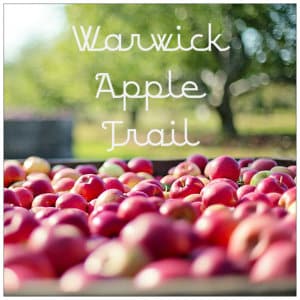 There's nothing quite like fall in the Hudson Valley, especially when there are so many fun things to do! Some guests choose the larger events and festivals, popular museums and newest shows at the local theatres. Others, however, seek out the quieter side and find the best local spots to check out. Because of its many farms, Orange County (where our B&B is located) hosts farm markets almost every day of the week in various cities. If you love this kind of thing and finding unique vendors offering all kinds of different homegrown items, you'll love coming here during the fall! The Warwick Apple Trail is one way to see the beautiful scenery of this area and enjoy the bounty that the local farmers have to offer.
The Warwick Apple Trail will take you to six different orchards in and around Warwick, NY, which is just a half-hour from our bed and breakfast. This trail is the perfect way to spend a gorgeous autumn day in Hudson Valley. When you arise, you can start the day off right with a to-die-for, breakfast made by our very own and very talented innkeeper Dena. Where else will you get three, hearty, delicious, and homemade courses for breakfast while on vacation? Whenever possible, we buy from local farms to assure you get the freshest and healthiest of ingredients. Then, you will be ready and set for a day of adventuring!
You can click here for a Google map of all the orchards that have teamed up to make this trail possible. We would be happy to provide you with a printed copy as well if you need. These six orchards you can visit along the trail grow over 50 different apple varieties on over 700 hundred acres in the Town of Warwick. They are Applewood Orchards & Winery, Apple Ridge Orchards, Masker Orchards, Ochs Orchard, Pennings Orchard & Farm Market, and Warwick Valley Winery & Distillery. During your travels you can snatch up some amazing baked goods and pies, apples and other local fruits, cider and cider donuts (our favorite!), as well as fruit spirits, wine and hard cider.
Is there a certain type of Hudson Valley vacation you are looking for? Book online today and contact us anytime for help in planning the perfect getaway. Hope to see you this fall and don't forget to check out our specials page with various package and special add-ons to make your stay even better!