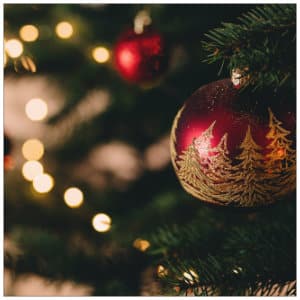 Are you hunting for some fun and fabulous events and activities to help kick off the holiday season? We've rounded up a few things happening nearby—although there are so many great things happening this season this is just the tip of the iceberg. Our romantic and elegant bed and breakfast is conveniently located to all that you need to enjoy a fantastic Hudson Valley holiday getaway.
Local Events to Kick Off Your Holiday Season
Wreath Fineries at the Wineries presented by the Shawangunk Wine Trail Wineries at various locations around the Hudson Valley. This is a self-guided wine tasting tour along the Shawangunk Wine Trail. You get to pick the weekend date and a winery for your starting point. Check-in at your starting winery where you'll receive a souvenir wine glass, a grapevine wreath and a Shawangunk Wine Trail ornament. Then you simply travel along the Wine Trail at your leisure, receiving a wine tasting and a beautiful ornament to decorate your wreath from each winery you visit. December 1-2 and December 8-9 from 10am-5pm.
44th Annual Holiday Concert at the Harness Racing Museum & Hall of Fame, Goshen NY. This one is happening December 6th from 7-9pm. This popular community event will "make your season bright" with Yuletide Carolers, a professional Victorian Quartet, and choir and jazz ensembles.
Holiday Boutique at the Orange County Arboretum at Thomas Bull Memorial Park in Montgomery, NY. Enjoy free hot cocoa as you peruse around the vendors selling all kinds of handmade crafts including holiday ornaments, gnomes, scarves and hats, local honey, succulents, holiday baskets, raffles, and more. Fridays, Saturdays & Sundays November 25th to December 16th from 5:00 pm to 8:00 pm
Christmas in the Village at Museum Village in Monroe, NY. Enjoy holiday entertainment as you stroll down Candy Cane Lane. The Gift Shop and Snack Bar will be open for guests. December 8th from 12-5 pm.
Sugar Loaf Holiday Celebration at the Sugar Loaf Art & Craft Village in Sugar Loaf, NY. We have mentioned this very unique place before and for the holiday season they will be bringing an old-fashioned holiday celebration to the hamlet. Bring your loved ones for horse-drawn wagon rides, strolling carolers, a visit from Santa, and shops full to of unique gifts for some early Christmas shopping. Finish the night with refreshments and crafts at the fellowship hall and a tree lighting at the church. It's all happening December 8th from 12:30-5:00 pm
Don't delay! Book online today to ensure you don't miss out on all that this amazing area has to offer. Our B&B made the list for 30 Charming Bed-and-Breakfasts Across America on www.msn.com. Come see for yourself why we are one of the top bed and breakfasts in the Hudson Valley.