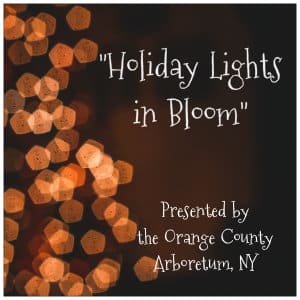 Did you know that the Hudson Valley is designated as a National Heritage Area? The Valley extends 150 miles above the tip of Manhattan north to Albany and is steeped in history, magnificent natural scenery, cultural treasures and am amazing variety of attractions. If you take some time to look back at our older blog posts, you'll find a goldmine of information on all kinds of things to see and do near our bed and breakfast. Literally starting from a mile away is a never-ending list of places to enjoy. One such place is the Orange County Arboretum and they certainly know how to celebrate the holiday season.
The Orange County Arboretum is located in the Thomas Bull Memorial Park in Hamptonburgh, NY, just 15 minutes away from us. It is one of the best botanical gardens in the area and somewhat of a hidden gem. It is a beautiful place to walk around, take pictures and relax. The park is open year-round from dawn to dusk and is free of charge for anyone that stops by. One very special area in the arboretum is the Remembrance Walkway and Garden, which was created to honor those who lost their lives and those whose lives have been forever altered by the tragic events of the September 11th attack on America. You can see a stunning rotating granite sculpture of the earth surrounded by bronze plaques that show the names of the 44 Orange County residents who perished that day.
The Arboretum also puts on various events and for the holiday season they feature their Holiday Lights in Bloom. While some of the warmer weather blooms have gone away, there will be other things "blooming" as the garden-themed light displays appear. The displays, in the forms of flowers, animals and insects, will charm all ages that walk through. The Lights in Bloom display will show from November 23 to December 30 on weekends from 5pm-8pm. After a lovely stroll through the gardens, we can point you to some great local spots to grab a delicious coffee or dessert so be sure to ask for our recommendations before you head out!
If you have not finalized your holiday plans yet, don't let them fill up without a much-deserved holiday for yourself to the Hudson Valley. You can book your desired room through our online reservations and we'd be happy to help you plan the rest!