updated June 2023
When you are on vacation what is your favorite thing to do? For some, getting as much rest and relaxation as possible is top priority. Others enjoy finding as many attractions and sites to see as possible. We think it is safe to say that eating is usually on everyone's list! It's always fun checking out new places or visiting spots you've enjoyed before. We are thrilled to have many amazing restaurants offering outdoor dining. Keep reading for four that we think our guests will enjoy!
Just 20 minutes away from us in the heart of Newburgh lies Ms. Fairfax – a local favorite open for lunch, dinner and weekend brunch. This quaint spot offers a picturesque patio lined with string lights and picnic benches. In addition to a delicious menu, enjoy rotating taps and specialty cocktails.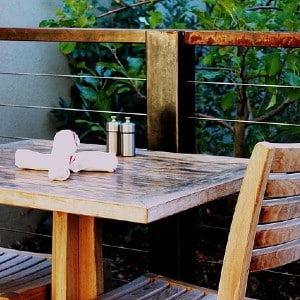 After a scenic half-hour drive you'll find yourself by New Paltz's Main Street at an adorable spot called Huckleberry. This charming local restaurant offers a cozy cocktail bar with craft beers and delicious house made pub food. The outside patio has a relaxing atmosphere with string lights, fire pits, picnic tables, and an outdoor bar. They are open 7 days a week and also offer a take-out window.
Clemson Bros. Brewery – Middletown
Middletown, NY lies near the Wallkill River and the foothills of the Shawangunk Mountains. It is a half-hour from our bed and breakfast and is where you'll find this great local brewery. Open 7 days a week for outdoor dining, enjoy a cold beer in the sunshine with one of their starters, sandwiches or burgers.
Located about 25 minutes from our B&B, the Roundhouse in Beacon offers diners an incredibly scenic view for outdoor dining. Their historic property overlooks a rushing waterfall and the perfect spot for a relaxing meal outside. They are committed to your safety and have implemented several precautions such as single-use menus, proper distancing between guest tables, contactless payment options, and sanitizing tables & chairs after each use. You may also want to check out "Smoke on the Water," their outdoor pop-up BBQ restaurant. This pop-up restaurant is open on Fridays 3pm to 10pm, Saturdays 11:30am to 10pm and Sundays 11:30am to 8pm.
Our bed and breakfast is open for travelers looking for a relaxing summer escape to the Hudson Valley. If you are looking to book a midweek or weekend getaway, please use our online reservations or contact us anytime for more information.