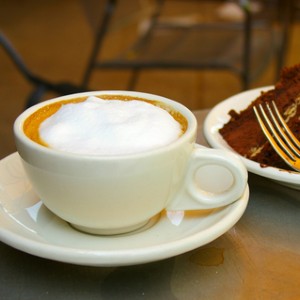 There are all kinds of coffee drinkers. There are the quick and easy instant coffee folks, the dessert-coffee-looks-like-a-sundae type, the coffee snob that will only drink coffee from a certain type of bean, and the Frappuccino fanatics, to name just a few. What coffee camp do you land in? While many of us need our morning coffee year-round, there's just something extra cozy about holding a hot cup of joe on a cold winter day. It just warms the soul and can turn a bad day right side up. Our bed and breakfast in Salisbury Mills, NY is a romantic place to stay during the winter months. During your stay you can warm up in many cozy coffee shops in Upstate New York.
Pair your favorite coffee with a fresh-baked muffin, pastry or egg sandwich and you've set the stage for a memorable winter outing. We've got a few of our favorite spots to warm up around town – let us know which one ends up being your favorite!
Cozy Coffee Shops Near the Caldwell House Bed & Breakfast
2 Alices Coffee Lounge – Located in both Cornwall and Newburgh, this spot offers delicious coffee and food such as mac & cheese, soup, bagels and pastries.
The Copperbarn Coffee Bar & Eatery – Not only does this place, located in Middletown, serve coffee but they also offer breakfast, lunch and dinner as well as a Sunday jazz brunch, local craft beer and wine, and custom gift baskets.
Javajo's Coffee Bar – This popular spot in Monroe is actually a three-in-one coffee shop & beer & wine bar. The coffee shop has a comfortable, friendly atmosphere where you can enjoy delicious coffee and a myriad of delicious pastry and bakery items.
Dottie Audrey's Bakery Kitchen – This amazing café in Tuxedo Park has an abundance of made from scratch goodies, comfort food and a relaxing, cozy atmosphere. They have a full line of espresso drinks and teas available.
Meadow Blues Coffee – A casual, family friendly space in Chester. They serve all kinds of coffee, cold brew, Nitro brew, espressos and yes, lots of pastries too!
Foundry42 – Located in Port Jervis, Foundry42 is a fun, eclectic place to grab great coffee and food. They feature their own combination of beans and home baked goods from the owner's private recipe catalogue.
Visiting a local coffee shop will give you a sense of our amazing community here in the Hudson Valley and is a great place to warm up on a chilly winter day. There are endless opportunities for travelers here in Upstate New York and our bed and breakfast is conveniently located in the middle of it all! Book your next getaway direct through our website or contact us for further information.