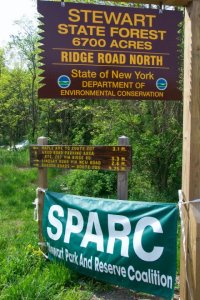 Stewart State Forest
A real treasure trove of outdoor activities – and often forgotten about – is the gem called The Stewart State Forest. To top it off, it is only about a 5 minute drive from the Caldwell House!
The roughly 7,000-acres of Stewart State Forest are unique in the northeast and increasingly rare in the Hudson Valley. A mix of wetlands, fields and woods, the site includes 18 miles of gravel roads and over 22 miles of major trails which provide unparalleled recreation – hiking, biking, horseback riding, hunting, dog training and trials, skiing, snowmobiling, bird watching and fishing. Old farm fields take you to an earlier gentler time in our nation's history.
History
The Stewart Bufferlands and the Supersonic Airport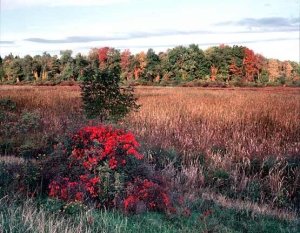 More than 400 acres of land is still being farmed at Stewart State Forest
In 1971, today's Stewart State Forest was first set aside as the "Stewart Bufferlands," when NYS condemned 8,076 acres to the west of then Stewart Air Force Base. The land was to become the east coast's premier Super Sonic Transport (SST) airport, and the large buffer was needed for expansion and noise abatement. The State bought 802 parcels of land, removing 337 farms and houses, and almost 1,200 people.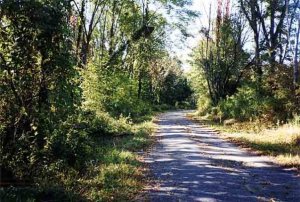 The airport expansion and SST plans were abandoned by 1982 and commercial flights began at Stewart in 1990. The airport's long runway remains one of several emergency landing sites for the Space Shuttle. Between 1974 and 1999, the DEC's Division of Fish and Wildlife managed Stewart as a Cooperative Hunting Area. The "Stewart Bufferlands" were turned over to the DEC in 1999 and 2006, after decisions were made concerning several development proposals for parts of the property.
Recreational Activities at Stewart State Forest
| | |
| --- | --- |
| Fishing | Since 1974, the 7,000 acres west of Drury Lane have been a New York State DEC Cooperative Wildlife Management Area, with almost 10,000 hunters visiting the area annually. The area represents a diverse population of game including deer, turkey, pheasant, grouse, rabbit, squirrel and an occasional black bear. Hunters are allowed access by permit and may park at the entry location lots or in any of the numerous areas provided alongside and inside the lands. Small game season starts in early October; large game/deer season begins around Thanksgiving, when hunters have exclusive use of the Forest into December. Turkey season begins May 1. |
| | |
| --- | --- |
| | Numerous ponds and small lakes dot Stewart State Forest. Many fishermen visit these waters annually. These waters provide excellent fishing for Bass, Yellow & White Perch, Crappies and Catfish. |
Many dog trial and hunting clubs hold regular training sessions and competitions at Stewart State Forest.

Horseback
Riding


Stewart State Forest provides an excellent place for horseback riding. With 7,000 acres of open space, fire-roads and trails, it has become a favorite place for many riders. Ample parking for horse trailers is available at the entrances on Ridge Road and Barron Road.

Stewart State Forest provides a variety of terrain to accommodate cyclists of all abilities. Over 16 miles of maintained fire roads offer easy to moderate conditions. More advanced cyclists will enjoy the over 50 miles of single-track trails. Several mountain bike events are held annually on the lands, including SPARC's annual

Stewart State Forest Bike Tour

. An 11×17 map of the lands with trails marked is available from SPARC for a $5 donation.

www.stewartparkandreservecoalition.org/

Numerous hikers and bird watchers visit the lands regularly. The large amount of land and trails combined with the peace, quiet and solitude of this environment make it an excellent choice for a relaxed hike. Many visitors come to watch the wildlife, especially birds. Stewart State Forest boasts a wide range of birds, and a variety of hawks and other birds of prey.
Access to Stewart State Forest for the Fall Hunting Seasons
Stewart State Forest is open to the public during the small game and special big game (archery and muzzleloader) hunting seasons. However, access during the Regular Big Game Season is restricted to licensed hunters and trappers for the purpose of hunting and trapping. Licensed hunters and trappers can gain vehicular access to the interior road network and internal parking areas through the Weed Road gate from October 1 through December 31 between one hour before sunrise and one hour after sunset (road and weather conditions permitting). Vehicle access to the interior of the area is also permitted for participants in the statewide youth pheasant hunting weekend (the weekend immediately proceeding October 1). All other users are prohibited from accessing the property by motor vehicle unless permitted by the Department and must park in an exterior parking area.
The Department and Orange County Federation of Sportsmen host an annual Youth Hunting Day on the 2nd Saturday in October. Hunting parties must include a junior hunter (ages 12-15) to access the area.
Reservations for the Regular Big Game Hunting Season
Reservations are required for the first two days (Saturday and Sunday) of the Regular Big Game season. To make a reservation, call Tuesday, 11 days before opening day, beginning at 8:30 AM. Only one reservation will be accepted per phone call. The telephone number to make a reservation is 845-256-3095.
DEC staff will be at the hunter check station on Weed Road one hour before sunrise to check in hunters on mornings when reservations are required. Hunters must claim their reservations by 7:00 AM. Unclaimed reservations may be reassigned after that time. Vacating a parking area after 8:00 AM will result in forfeiture of a party's reservation for the remainder of the day.
This domain is the "holy land" to the local mountain biking community because of its excellent and competitive singletrack trail system over a variety of challenging terrains. The cooperative area is composed of a combination of active and abandoned farmland, apple and pear orchards, and second-growth forestland. Ponds and marshes dot the landscape, along with several small streams. Twelve miles of wide, gravelly, hard-packed dirt roads crisscross the hilly interior, providing long, sweeping descents from hills. These roads are perfect for the novice or experienced rider hungry for some genuine fat-tire fun. For the more serious riders and technicians, there are wads of intermediate and advanced high-tech singletracks. These trails traverse what seems to be an unlimited supply of hills and tight turns punctuated by myriad jumps. They can be attacked aggressively or handled slowly. The lunar, 10-mile, jackhammer, singletrack loop described below is for dedicated hammerheads with a purpose. Good bike handlers will get an excellent workout. Sections of the ride are actually banked and pitched at an angle, keeping you off the brakes and moving fast. As you navigate through the many twists and turns of the trail, the riding begins to take on a Zenlike quality. You're not overbraking or oversteering, and the tires seem to carve like skis. You come out of corners with just enough momentum, as if the trail is controlling the bike and you're just along for the ride. The Stewart Airport Cooperative area, aka "the holy land," is a great place to come with a group of people with different riding skills. There is plenty of track for those who would like some easy peddling through scenic countryside. For the dirt disciples who are not happy unless they have shredded some rock and come back bruised and battered and have conquered every hill, this is heaven. Located in northeastern Orange County between the city of Newburgh and the village of Maybrook. The area is bounded on the north by Interstate 84, on the east by the New York State Thruway (Interstate 87), and on the south by NY 207. The topography is generally flat and gently rolling. The layout of the single-track loop takes full advantage of the hilly terrain and varied woodland, including as many short-haul ascents and descents as can fit into the trail's 10 miles. There are no major long hauls up any mountain, just lots of tiny hills. The double-track rolls gently along the interior dirt roads with no appreciable gain or loss in elevation.